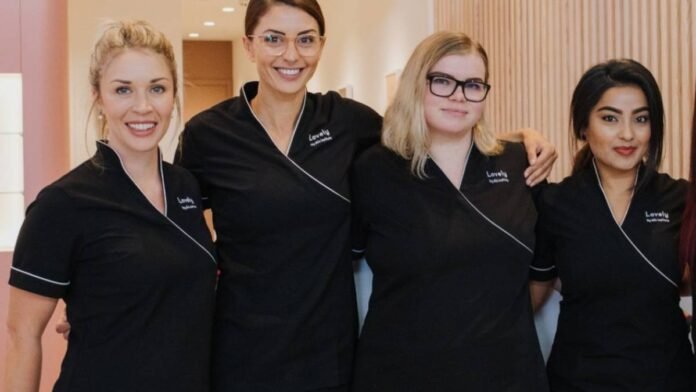 WHO:
Lovely by Skin Institute, New Zealand's newest skin and body experts and independent little sister brand to Skin Institute.
The highly trained teams at the three Lovely by Skin Institute stores across Auckland offer a range of appearance medicine treatments, all of which are overseen by medical doctors. Lovely by Skin Institute uses superior technology in a more convenient, affordable way, delivering accessible treatments into mainstream mall locations and empowering customers to love the skin they're in.
THE TREATMENT:
Let's face it, none of us are immune to problem areas. No matter how many hours we spend slogging it out at the gym, sometimes certain areas of our body just won't play ball. Lovely by Skin Institute offers a solution to reduce pockets of stubborn fat — a fat reduction treatment known as Cooltech™. Now considered one of the world's most advanced fat freezing and body sculpting systems, this non-invasive, fat reduction spot treatment helps reduce the size of each fat cell, therefore smoothing the skin's appearance and creating a more toned silhouette.
This non-surgical alternative to liposuction signifies the rise in popularity of other treatments that don't require going under the knife. Now more than ever customers are opting for treatments that are comfortable and quick, with no incisions or downtime needed.
Cooltech™ works to reduce stubborn fat on multiple areas, including the stomach, obliques, back, underarms, thighs, buttocks, and chin. The secret lies in its use of cryolipolysis technology, a science-backed method that has been validated in numerous clinical trials for its impressive results. This scientifically proven technology works on the principle that fat cells and tissue are more vulnerable to dramatic changes in temperature than other types of body tissue.
SUITABILITY:
Cooltech™ is suitable for those in good physical shape, who wish to tackle fat deposits that won't shift despite a healthy lifestyle and exercise. Medical studies have shown that just one session can reduce the number of fat cells in the treatment area by up to 2.5cm.
HOW LONG DOES IT TAKE?
Each Cooltech™ session takes just over an hour to complete. Plus, there's no down-time needed, making it an ideal treatment to squeeze into your lunch break.
HOW MANY TREATMENTS ARE NEEDED?
A consultation is required before treatment begins, during which a Lovely by Skin therapist will assess the area of concern and guide you on how many Cooltech™ treatments will be needed to address it. Typically, only one or two treatments are required for each area.
HOW MUCH IS IT?
Cooltech™ treatments at Lovely by Skin Institute start from $449 per area, with payment plans available via Oxipay or Q Mastercard, meaning you can pay off your treatments in budget-friendly instalments.
THE RESULTS:
Results may vary depending on metabolic rate and other lifestyle factors, as the body takes time to eliminate fat cells post-treatment. For some customers, the benefits are noticeable as quickly as 15 days after their initial treatment. But for others, optimal results will be visible within three months.*
CoolTech™ isn't the only non-surgical treatment available from Lovely by Skin Institute. Ulfit is a skin tightening and body contouring treatment, that uses advanced high-intensity focused ultrasound (HIFU) technology to firm, tighten, lift and contour skin on the face and body. Lovely by Skin Institute is part of the wider 'Skin Institute Group', along with sister companies of Skin Institute, and Off and On, but operates independently. Lovely by Skin Institute offers customers a variety of convenient and affordable appearance medicine treatments.
This includes facial peels, laser hair removal, microdermabrasion, anti-wrinkle injections, dermal fillers, and laser rejuvenation as well as a number of skin and body treatments to help you look and feel your loveliest self.
For more information or to book, visit one of Lovely By Skin Institute's three Auckland locations: Westfield Manukau, LynnMall and Westfield Albany (with Westfield Newmarket store opening in mid-November, as well as Commercial Bay in 2020); or head to Lovelybyskin.co.nz. Phone 0800 004 525. For out of Auckland interest, Cooltech™ is also available in some of our independently-run sister company clinics — Skin Institute, however please be aware that pricing and packages differ. Please see Skininstitute.co.nz for which clinics offer these services.
*Individual results may vary.