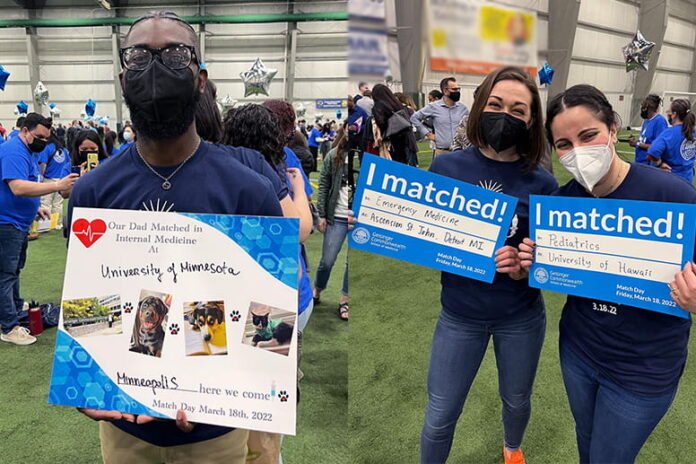 Today fourth-year students at Geisinger Commonwealth School of Medicine (Geisinger Commonwealth) learned their residency placements during the National Resident Matching Program's "Match Day," an event at which all fourth-year MD students around the country simultaneously open their envelopes to learn where they will spend the next three to seven years training in their chosen specialty. Residencies typically begin July 1.
"We are proud of the success of our Class of 2022," said Julie Byerley, MD, MPH, president and dean of the Geisinger Commonwealth and executive vice president and chief academic officer, Geisinger. "Our students matched into excellent local residency programs, as well as some of the most competitive and prestigious programs and specialties in the nation. I am pleased that nine students matched at Geisinger. I am also happy to note that the nine Abigail Geisinger Scholars in the Class of 2022 matched – and all nine will eventually work as Geisinger physicians serving our communities. And with 40 percent of our class matching into Pennsylvania residency programs, we are confident our school will expand the number of alumni who return to care for our neighbors."
During the ceremony, Dr. Byerley addressed the Class of 2022 saying, "You have done what you set out to do – you have become physicians. During your residency, you will use your education and skills to heal. You will take histories, order labs, make diagnoses, do procedures, deliver bad news, celebrate good news…You will be doctors, the privileged professions that balances science and servie to others."
Dr. Byerley noted that 38 percent of the Class of 2022 matched into primary care fields and eight into psychiatry. She also observed that Geisinger Commonwealth applicants matched into some of the most competitive specialties in American medicine, including dermatology, ophthalmology, otolaryngology, orthopedics, neurosurgery and plastic surgery. In addition to the large number of Geisinger Commonwealth students who will train at leading community-based programs, many students will go to residencies at highly competitive teaching hospitals, including those associated with Yale, Johns Hopkins and Walter Reed.
View Geisinger Commonwealth's 2022 Match results. (This is a list of students who gave Geisinger Commonwealth permission to share their Match results.)
Read National Resident Matching Program official press release.
Geisinger Commonwealth Match Day by the numbers
Anesthesiology – 6
Dermatology – 2
Diagnostic radiology – 1
Emergency medicine – 12
Family medicine – 9
General surgery – 8
Internal medicine – 21
Interventional radiology – 2
Neurology – 3
Medicine-pediatrics – 3
Obstetrics/gynecology – 7
Orthopaedic surgery – 3
Otolaryngology – 1
Pediatrics – 9
Plastic Surgery – 1
Psychiatry 8
Radiation oncology – 2
Radiology – 1
About Geisinger Commonwealth School of Medicine
Geisinger Commonwealth School of Medicine (Geisinger Commonwealth) is a member of the Geisinger family. Geisinger Commonwealth offers a community-based model of medical education with campuses in Atlantic City, Danville, Doylestown, Sayre, Scranton and Wilkes-Barre. Geisinger Commonwealth offers Doctor of Medicine (MD), Master of Biomedical Sciences (MBS) and Professional Science Master's (PSM) degrees. The school's innovative curriculum, focused on caring for people in the context of their lives and their community, attracts the next generation of physicians and scientists from within its region, as well as from across the nation. The school also has more than 500 residents and fellows in 31 accredited residency programs and 27 accredited fellowships. Geisinger Commonwealth is committed to non-discrimination in all employment and educational opportunities. For more information, visit www.geisinger.edu/gcsom, or connect with us on Facebook, Instagram, LinkedIn and Twitter.
About Geisinger
Geisinger is committed to making better health easier for the more than 1 million people it serves. Founded more than 100 years ago by Abigail Geisinger, the system now includes 10 hospital campuses, a health plan with more than half a million members, a Research Institute and the Geisinger Commonwealth School of Medicine. With nearly 24,000 employees and more than 1,600 employed physicians, Geisinger boosts its hometown economies in Pennsylvania by billions of dollars annually. Learn more at www.geisinger.org, or connect with us on Facebook, Instagram, LinkedIn and Twitter.