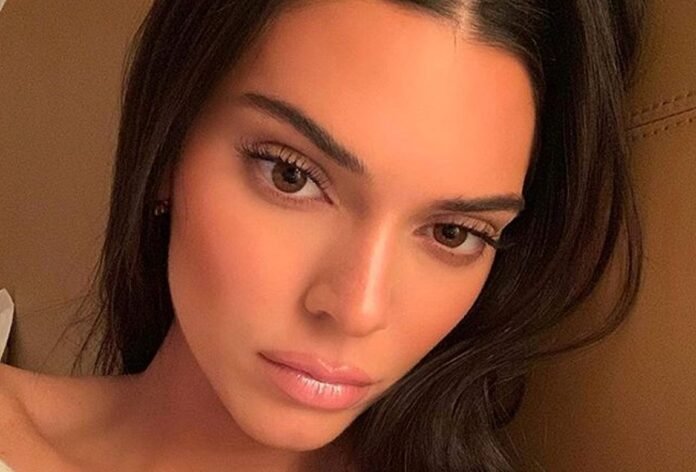 These days it's become possible to change almost every aspect of your face. Want to get rid of that bump on your nose? There are non-surgical injectables for that. What about adding a couple of cute Miranda Kerr-worthy dimples on your cheeks? Say no more – dimpleplasty has you covered. And let's not even get started on how commonplace lip fillers have become.
But there's one trend you might not yet be familiar with – a look described as 'fox eyes' or 'designer eyes' is gaining major popularity within the cosmetic industry. Thanks to the likes of famous supermodels, such as Kendall Jenner and Bella Hadid, almond-shaped and upturned eyes are all the rage. People on TikTok are even shaving off their eyebrows to achieve a more lifted look – dubbed the 'fox eye challenge' (just look up #foxeye). 
"Social media influencers with great profiles and large followings, along with the Internet and lifestyle media, are the key drivers when it comes to aesthetic trends. In particular, the popularity of Kendall, Bella and the Kardashians are the most requested 'look' that many patients are aspiring to," says Sydney blepharoplasty surgeon, Dr Angelo Tsirbas.
While few people are born with such a unique eye shape (there are rumours Bella's aren't even the real deal), there are several ways to create the look using both surgical and non-surgical techniques. This kind of cosmetic treatment basically involves lifting the outer corner of the upper eyelid and slightly pulling it towards the temples.
While the popularity behind these kind of aesthetic eye treatments is mounting, Dr Tsirbas says this look can be highly problematic – it's not just a matter of waltzing into a cosmetic clinic for a quick eye treatment. He says there are certain things people may be overlooking before undergoing such a transformative procedure, including the complications and risks involved with specialised eye work.
Here's everything you need to know about the popularised 'fox eyes lift' treatment, and what the cosmetic procedure entails.
What's involved in a 'fox eye' treatment?
If you're looking to change the shape of your eyes, there are two different approaches that can be used: a non-invasive option and an invasive (surgical) option. "Non-invasive involves the injection of fillers and fat at the outer edge to elevate the brow," explains Dr Tsirbas. He says the use of fillers has become a popular option, as it creates a temporary aesthetic change that can last up to two years.
On the other end of the spectrum lies the surgical options. Blepharoplasty is the official name for plastic surgery involving the eyes, and it involves removing excess skin or fat to rejuvenate or correct the shape of the eyes. Dr Tsirbas says for some patients, a brow lift is the best option. "In the 25 to 40 age-group, some women want a temporal brow lift (for those that have a 'heavy forehead') – but this requires a surgical option. Therefore, you need to take great care as this is a permanent option. I always advise patients that trends are temporary, so it's ideal to choose a look that will personally suit you for a long time."
Who is the best candidate for 'designer eyes'?
It's important to keep in mind that these types of procedures aren't exactly one-size-fits-all, and Dr Tsirbas says the type of approach used to obtain a certain aesthetic eye look all comes down to the individual patient. "When it comes to women like the Kardashian/Jenner girls, their ethnic origin is Armenian and therefore they often have deep set eyes, and a fairly natural low medial brow and a high arched lateral brow to start with. They have minimal fat in their orbit (eye socket). And their skin tends to have a higher degree of collagen which makes them ideal candidates for having filler," explains Dr Tsirbas.
"However, European women with Anglo Saxon heritage have skin that tends to lose collagen earlier, therefore the filler option doesn't always produce the same seamless finish. Surgical options tend to best suit them," says Dr Tsirbas. "For patients who require the surgical option, they must undergo an extensive consultation and both the patient and the surgeon need to be on the same page when it comes to the desired outcome." 
Dr Tsirbas says everyone's anatomy is different, and everyone's face has a different shape, so (similar to Kylie Jenner's lips) the 'fox eyes' look may not suit everyone. "Some people will show me a picture of how they want their eyes to look, however they don't have the facial features to enable this look to work for them," shares Dr Tsirbas. "It's my job in these instances to say, 'No. I understand you want this, but it's not going to look the way you want it to'. I can recommend other options to give them something close to the look, but in a non-invasive fashion using filler and then it's not permanent."
What are the risks?
As with any medical procedure, specialised eye work (including both non-surgical and surgical approaches) comes with potential risks and complications. "Big problems associated with filler in the orbital region are lumpiness, prolonged swelling and delayed swelling," reveals Dr Tsirbas. "This can cause a stretching of the skin which can cause a condition called 'festoons' which are very difficult to treat." Sometimes complications can be even more severe. Delayed filler complications (which can happen weeks after the initial filler treatment) include blanching (a bluish discolouration), nodules, and hypersensitivity – common risks which Dr Tsirbas says are largely unrecognised. Although rare, vascular complication is another risk, and it is one that can ultimately lead to blindness. 
In terms of blepharoplasty surgery, Dr Tsirbas says it's possible for patients to experience complications with their results, which may require surgical correction. "More often it's a problem because the doctor shouldn't have worked on the case to start with. This is a case of doctors not knowing what the consequences will be. With surgery of the eyelid – millimetres matter."
Our advice? If you're going to undergo a procedure like this, make sure you're seeing a highly skilled and experienced surgeon. "Some surgeons may be great at fixing noses, or performing face lifts, or in doing breast augmentation, but for the eye, you need to have someone who is highly experienced in eyes with many hours of surgery, as the skin, tissues, and muscles require a specialist who comprehensively understands the anatomy of the eye," says Dr Tsirbas. "Once you've had an operation and changed the shape of your eye, it's difficult to fix it if you're unhappy. I see three to four patients per week who've had bad results with their surgeon, and they've been referred to me as they're unhappy and want it fixed."
Looking for more information on cosmetic treatments? Check out everything you need to know about brow lifts, and the ins and outs of non-surgical nose jobs.