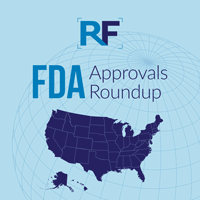 A weekly update on new drug approvals and indications from the US Food and Drug Administration (FDA).
New approvalsEvkeeza gets thumbs up as add-on therapy for inherited severely high cholesterol
Regeneron's Evkeeza (evinacumab-dgnb injection) has been
approved
as an add-on therapy for homozygous familial hypercholesterolemia (HoFH) in patients aged 12 years or older.  
HoFH is a genetic condition that causes life-threatening, severely high levels of low-density lipoprotein cholesterol (LDL-C).  
Evkeeza's approval was based on findings from the double-blind, randomized, placebo-controlled
ELIPSE
trial, which evaluated the drug's effectiveness and safety. Of 65 patients with HoFH included in the study, 43 received Evkeeza every 4 weeks for a total of 24 weeks, and 22 patients received placebo. At week 24, patients receiving the study drug had an average decrease of 47% in LDL-C from the beginning of treatment, whereas those on placebo showed an average increase of 2%.  
The safety and effectiveness of Evkeeza have not been established in patients with other
causes
of high cholesterol, nor is its effect on cardiovascular morbidity and mortality yet known.  
Evkeeza received orphan drug and breakthrough therapy designations and priority review for this indication.  
Cosela approved for reducing chemo-related bone marrow suppression
G1 Therapeutics' Cosela (trilaciclib) has been
approved
for reducing bone marrow suppression in adults undergoing chemotherapy for small cell
lung
cancer that has spread beyond the lungs, also known as extensive-stage disease.  
Cosela's approval was based on findings from three randomized, double-blind, placebo-controlled studies in a total of 245 patients with extensive-stage small cell lung cancer. Patients were randomly assigned to receive either an infusion of Cosela or placebo before having chemotherapy. In all three studies, patients on the study drug had a lower chance of developing severe neutropenia – a very low count of white blood cells, or neutrophils – compared with their placebo counterparts. Among patients with severe neutropenia, those on Cosela had it for a shorter time than those on placebo.  
Cosela received priority review and breakthrough therapy designations for the indication.  
New indicationsEntresto label expanded for reducing CV death risk, hospitalizations in HF
Novartis's Entresto (sacubitril/valsartan) has received an
expanded
indication for reducing the risk of cardiovascular death and hospitalization for heart failure (HF) in adult patients with chronic heart failure. The
label
notes that benefits are "most clearly evident" in patients with below-normal left ventricular ejection fraction (LVEF).  
Entreso is the only therapy for this indication to carry US approval that includes both patients with reduced ejection fraction and with preserved ejection fraction.  
The label expansion is based on efficacy and safety findings in the Phase 3
PARAGON-HF
study in patients with HF with preserved ejection fraction, which demonstrated patients with below-normal LVEF benefited most.  
Entresto was originally approved in 2015 and is used for treating HF with systemic left ventricular
systolic dysfunction in patients aged 1 year or older.  
Panzyga gets expanded indication for adults with rare peripheral nerve disease
Pfizer's Panzyga (immune globulin intravenous [human]-ifas) has received a
new
indication for treating adults with chronic inflammatory demyelinating polyneuropathy (CIDP), a rare disease of the peripheral nerves. It is the only intravenous immunoglobulin approved with
two
maintenance dosing options for this indication.  
The approval was based on data from a prospective, double-blind, randomized, multicenter Phase 3
study
in 142 patients with CIDP. Investigators evaluated two maintenance doses – 1.0 g/kg and 2.0 g/kg – for efficacy, safety, and tolerability during seven, three-weekly maintenance infusions over six months.
In all, 80% of patients in the 1.0-g/kg dose arm responded to the treatment. There was also a dose-dependent response, demonstrated by the 92% of patients in the 2.0-g/kg dose arm who responded to treatment. Dose-dependent responses were also noted in the two arms in grip strength, Inflammatory Rasch-built Overall Disability Scale, and the Medical Research Council-
sumscore
, which evaluates muscle weakness.  
Pfizer and Octapharma have a license agreement under which Pfizer can market and sell Panzyga in the US. Octapharma has exclusive rights to sell it anywhere outside of the US.  
Panzyga was first approved in 2018 and is also used to treat primary humoral immunodeficiency and  chronic immune thrombocytopenia.  
Botox use extended to children with neurologic-related detrusor overactivity
Allergan's Botox (onabotulinumtoxinA injection) has been
approved
for treating detrusor (bladder muscle) overactivity associated with a neurologic condition in children aged 5 years or older with an
inadequate
response to or intolerance of anticholinergic medication.  
Children with neurologic conditions such as spina bifida, spinal cord injuries, and transverse myelitis may experience detrusor overactivity.  
Approval for the extended indication was supported by safety and efficacy findings from a randomized, double-blind, Phase 3
study
in 114 pediatric patients of the indicated population. After six weeks of treatment, the results showed that Botox reduced daytime urinary incontinence episodes, lowered maximum bladder pressure, and increased bladder capacity.