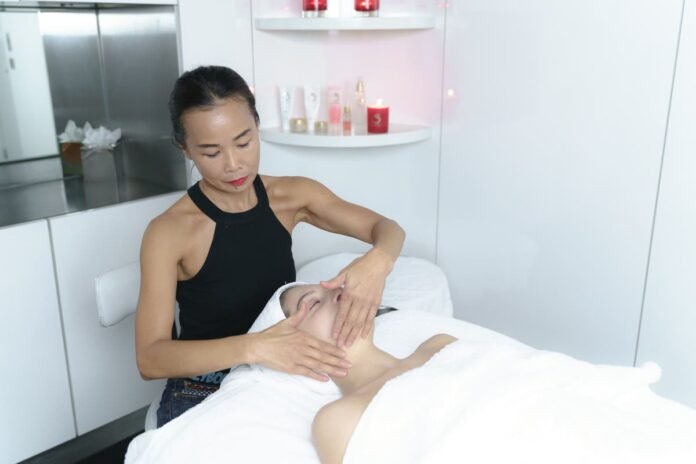 A
vital argument rages among my skin-alert friends as we figure out how to get through the "grey months" and early-year faces look as tired as its owners feel. Do we go straight for the Botox bonanza or killer-filler approach? I noticed one recent dinner companion with a forehead so suddenly devoid of furrows that the effect was compelling, but too "ironed out" to be my choice. That left manual interventions — boosting the moisturising and facials budget from the money (sort-of) saved in a dry-ish January.
Alas, that is not quite enough to see off some ultra-expressive crows' feet and my acquisition of one darkish under-eye circle (it would be bad enough if these ghastly appearances practised symmetry — one was somehow worse). So the brainwave struck: why not go for a mini-botox approach and match with one of the most effective of the muscle-tightening facialists? I combed back through years of reviewing good, bad and indifferent skin treatments and opted for two of the best: Frances Prenna Jones (FPJ is known to her fans as one of the most reliable dermatology veterans) for Botox and Su-Man, the dynamic Taiwan-born facialist who used the skin-palpating skills of her native south-east Asia to lift tired skin.
I saw Su-Man first, on the grounds that I felt more able to face the rigours of a dermatology appointment after a session of her mind-freeing massage (hands and feet are thrown in, so you can drift off while she works). But if you wanted a glow-up for a special event and were careful with the timing you could do the "landscaping" Botox first before the facial. Prenna Jones recommends a gap of at least a couple of days, to avoid any slight risk of the muscle-freezing toxin migrating to somewhere on your face you don't want it.
These days, SuMan now works out of the elegant Sofitel in St James's, which I have to says is a tranquil relief after seeking her out in the more partytastic W Hotel. In her new home, you retreat into quiet nether depths of the hotel (book tea afterwards in the lovely, flower-filled rose lounge) and she does her distinctive tapping, sweeping and tiny pinching movements for the next 50 minutes.
Gradually, I can feel the muscles in my forehead and temples yielding and a clearer head too. Her evening skin products are lovely and she reminds me to massage the skin upwards, including from the décolletage. If you wanted to focus more on chiselling a droopy jawline, you could ask for her countering facial option. It would be rude to disclose Su-Man's age but she could pass for a good fifteen years younger based on practising what she teaches in face care.
I head over to FPJ in Shepherd's Market to deal with the winter "triangle of sadness" between the brows and tell her this is to be light Botox duties only. She opts for a place between the brows (a lot of doctors go for a shot on either side of the inner brows, but FPJ has her own techniques and rather than looking to erase the lines, she is aiming for a nifty optical illusion to open up the eyes). She also zones in on the area to the side of the eye and above the cheeks, which tightens everything up nicely without producing the Zombie stare of the over-Botoxed.
When she suggests a shot in the chin and I quail and mutter about whether this is necessary, she tells me to scrunch up my lower face muscles like an angry Hulk. This duly produces an effect she dubs "scrotum chin" — a knotty web of ageing furrows. She wins. Her cheery med-school humour helps distract from any "ouch" moments. I do wince a couple of times at the needle (not the jokes), but can now happily reveal that the scrotum effect has gone and my chin is as serene as I would like to feel.
So the "combo" worked out pretty well. Both of these practitioners are professionals in their attention to detail and listen to what you want to achieve. So try the natural-needle combo: it is my new double act that works a small February wonder.
Frances Prenna Jones from £280; drfrancesprennajones.com
Su-Man Sofitel St James facials from £220; sofitelstjames.com