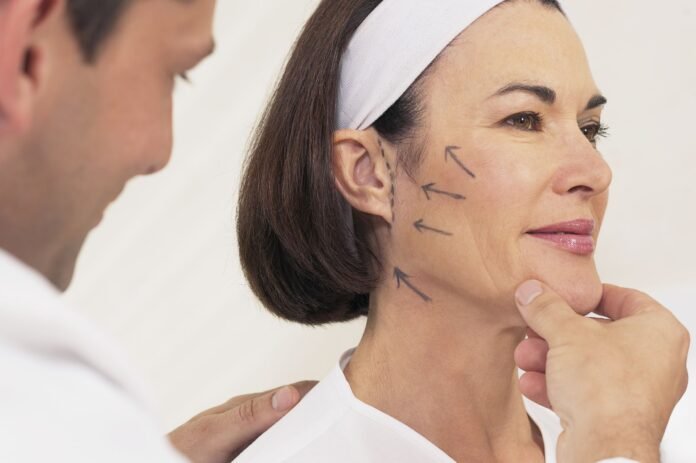 Facial plastic surgery, more commonly referred to as a facelift, or rhytidectomy, is an elective surgical procedure that improves visible signs of aging in the face and neck. Preparing to have facial plastic surgery can help alleviate any stress that may be associated with the procedure.
Knowing the location, all preoperative guidelines including when to stop eating and drinking and medication administration, as well as lifestyle adjustments to make in advance, are essential to the success of the procedure.
Location
A facelift procedure may be performed in the following locations,
Accredited office-based surgical facility
Licensed ambulatory surgical center
Hospital
It's important to note that if the surgery is performed at an outpatient or ambulatory surgical center the patient may be transferred to a hospital in case of an emergency. The location of the procedure is dependent on where the plastic surgeon has privileges and performs surgeries.
Regardless of where the facelift procedure is performed, it is a same-day surgery procedure and you will be discharged after the procedure. It's important to have a friend or family member available to drive you home after the surgery.
What to Wear
Loose fitting, comfortable clothing is appropriate to wear for the procedure. You will have to change into an approved gown prior to the procedure and remove all undergarments.
Ideally, wear or bring a loose-fitting zip-up or button-up shirt. This is important for after the procedure because the surgical area will be sensitive and you do not want to pull anything over your head and face.
Food and Drink
You will be required to stop eating and drinking prior to surgery. This is called being NPO, which means nothing by mouth.
Instructions on a specific time will vary depending on the time of the procedure. You will be given this information at a pre-operative appointment and then a follow-up reminder call is done the day before the procedure by the nursing staff.
It is imperative to follow the NPO guidelines because if not, the surgery could be canceled.
Medications
The surgeon will discuss all medications with you before the surgery. Make sure to bring a list of the medications to pre-operative appointments including the dosage, how often the medication is taken, and when it was last taken.
Also include all vitamins and supplements in the list of medications. These are just as important as prescribed medications as they may have side effects with the anesthesia and medications used during and after the procedure.
Take only the medications your health care provider tells you to take on the morning of your surgery. Take them with just enough water to swallow comfortably. Make sure to confirm the medications with your surgeon and only take with water.
What to Bring
Since this is a same-day outpatient procedure, you will not need a lot of things at the hospital with you. Here is a list of some of the most important items to bring with you on the day of your scheduled facelift procedure:
Comfortable loose-fitting clothing, robe, and rubber-backed, non-skid slippers
Personal care products such as toothbrush and toothpaste
Storage containers for glasses, contact lenses, and/or dentures if you wear them
Insurance card and personal ID card
Emergency contact information
A copy of your legal paperwork pertaining to your health (such as your health care proxy or living will)
A complete list of all the medications you currently take including the dosages, how often you take them and when they were last taken
Any adaptive equipment for mobility including cane, walker, or wheelchair
Cell phone charger
You should not bring:
Valuables
Jewelry
Watches
Credit cards
Cash
Laptop
Pre-Op Lifestyle Changes
A facelift is an elective surgery that is timed based on your availability as well as the surgeons. Making a few key lifestyle improvements prior to the procedure will help the recovery process and prevent postoperative complications. Important changes include:
Quit smoking: Stop smoking at least six weeks before the surgery. Smoking increases the risk of surgical complications.
Stop drinking alcohol: Alcohol thins the blood and may increase bleeding during the procedure. Most surgeons recommend no alcohol for a minimum of 3 days prior to the procedure.
Stay well hydrated.
Avoid new tattoos: Avoid getting any new tattoos or eyebrow microblading prior to the facelift as it may increase the risk of infection.
Stop taking aspirin: Aspirin and other nonsteroidal anti-inflammatory drugs can increase the risk of bleeding.
Get plenty of rest.
Make diet changes: Eating a well-balanced diet can help optimize surgical results.
Avoid sun exposure and/or wear sunscreen: It's best to have a natural skin tone for the procedure to optimize results. Also, avoid spray or fake tans.
A Word From Verywell
The decision to have facial plastic surgery can be unnerving but with the proper preparation and having open conversations with the plastic surgeon, the results can be life altering. Optimizing your body for surgery may include increasing exercise, avoiding sun exposure, and additional lifestyle changes.
It's important to remember to fully prepare yourself, your home, and potential caregivers for what to expect before, during, and after the procedure.