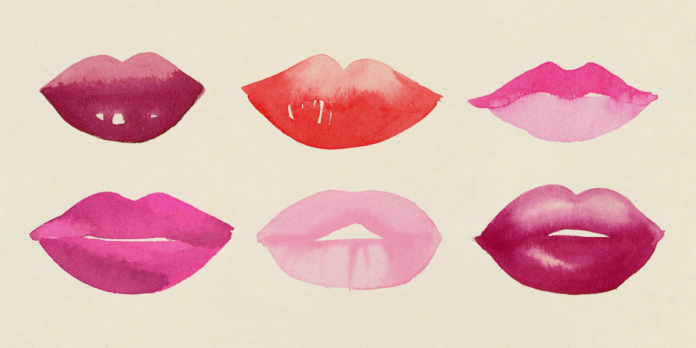 Illustrations by Cecilia Carlstedt
If you know me, you might not expect me to be a fan of lip filler. After all, I rarely get my nails done, I can't stand false lashes and never spray tan. For me, many beauty treatments are just too uncomfortable and fade too quickly, and I don't like the cycle of constant enhancement. But the idea of a single treatment that could help provide an extra boost of self-confidence about how I look? It's exactly what I've been looking for.
Since I was first introduced to lip filler, I haven't been swayed from my biannual top-ups. Here's what I've learned along the way.
1. Be VERY picky about your injector
When I first Googled 'lip injections', I found a laundry list of providers. As a natural worrier, my head filled with images of botched, swollen horror-shows. So I narrowed my search, checked the reviews and did my research.
Alice Henshaw, owner and founder of Harley Street Injectables and Skincycles skincare, says finding the right practitioner is one of the most important steps you can take. She recommends choosing one with a medical background (a nurse prescriber, doctor or dentist). 'In the UK, you do not have to be a medical professional to inject filler,' she explains. But for peace of mind, I definitely wanted a highly-qualified person.
2. Ask a million questions
I settled on a medical clinic and found a board-certified physician assistant injector. Before scheduling my appointment, I read the pre- and post-care tips while voraciously scouring the internet for first-person accounts and videos.
It's really important to do your research, but you don't need to go down a rabbit hole. Just make sure you have a proper consultation and speak to your practitioner to voice all your questions and concerns, and ask whatever you need to in order to feel calm and confident.
3. Choose the right filler
The right practitioner will have the experience and expertise to help guide you to the right product. I chose Juvéderm – here's why: Juvéderm is made from synthesised hyaluronic acid (HA), a naturally occurring substance found in our skin. As Henshaw explains, 'HA plays a major role in keeping skin hydrated and volumised.'
Due to its patented formula, Juvéderm integrates well with the skin's tissue for a natural-looking result. It can last up to 24 months, depending on the precise treatment and product, which I consider a good thing – as we age, our facial structure and proportions may shift, and like those 90s low-rise jeans we used to wear, we might eventually want something different.
4. Take steps to minimise the chance of bruising
Three days before treatment is the golden time to minimise the odds of bruising. Cutting out alcohol can also help with this.
Also, eat pineapple! This trick worked wonders for me. Pineapple contains bromelain, which can help to reduce the chance of bruising. Worth a try!
5. During injection, focus on the breath
When the big day arrived, I was seated and given numbing cream for my lips. Juvéderm has a numbing agent built into its formula too.
My injector walked me through the procedure and explained how she would achieve the look I was going for. She used the natural structure of my lips as a point of guidance, to enhance and plump rather than alter the shape.
Then I leaned back and took a deep breath. The needle slid into the border of my upper lip and gently that area filled with pressure. This continued for 10 minutes. With each injection, I focused on my breath and this helped tremendously. I also pinched the flat of skin between my thumb and pointer to distract from the pressure.
6. You may feel like you have 'duck face' straight after – don't worry, this is usually temporary
After treatment, my 'duck face' was off the charts. It hurt to smile too hard or laugh, and the first couple of nights were mildly uncomfortable because of the swelling. Lip filler takes time to settle in, and little lumps are normal. However, if you have any issues pre- or post-treatment you should always talk to your practitioner, who will be able to provide the guidance and reassurance you need throughout the process.
I've since been having lip filler twice a year and for me, healing from the first time was the worst. But compared to the sting of fake lashes, it's not bad.
7. You might fall in love with your natural beauty
After my Juvéderm treatment, I noticed the smooth plumpness of my lips, and I liked how it enhanced my features.
Getting lip filler was a journey of self-discovery. I became more confident in the fullness of my cheeks and blushed complexion, and fell in love with my unkempt hair and a bare face. Please know that it's OK to get whatever beauty enhancement makes you feel more like yourself. For me, it was Juvéderm.
---
To find out if Juvéderm facial fillers are right for you and to locate your nearest clinic, visit juvederm.co.uk
UK-JUV-2150178. Date of preparation May 2021
Produced and funded by Juvéderm
This content is created and maintained by a third party, and imported onto this page to help users provide their email addresses. You may be able to find more information about this and similar content at piano.io