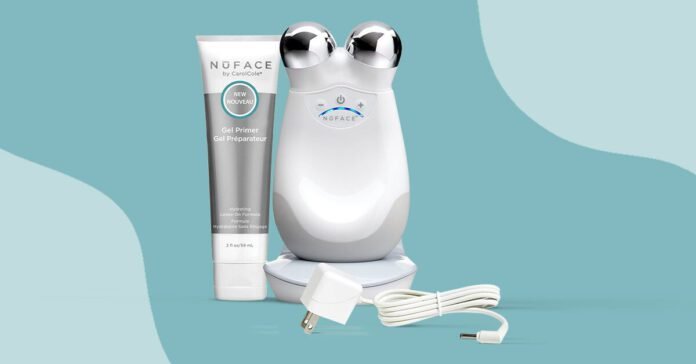 Beauty standards aren't the only things changing over the centuries. As beauty trends come and go, so do the different techniques people use to conform to them. People have always found clever ways to change their appearance, and technology keeps getting better.
For quite some time, people have been trying to resist the natural effects of time on their skin. There seems to be a cream for just about every skin concern you think of, and now, there's an at-home skin care device to match.
At-home microcurrent devices are the latest trending beauty devices that promise to lift and tone your face from home. But do they work? We set out to find out what all the buzz is about surrounding NuFACE, the leading brand of at-home microcurrent devices.
NuFACE is a manufacturer of skin care products and devices. It's mostly known for its at-home facial toning devices that use microcurrent technology. While the technology has been around since the late 1970s, it wasn't always used for beauty purposes. Initially, microcurrent devices were used for pain relief and wound healing. It became a cosmetic procedure in the 1990s.
While you can get a microcurrent facial performed by a licensed esthetician or dermatologist, these treatments add up quickly. NuFACE creates at-home microcurrent devices that are more cost-effective in the long run and claim to offer similar results. The devices are often compared to workouts for your face since they strengthen the facial muscles.
NuFACE is for anyone looking for a home remedy for preventing the visible signs of aging, such as sagging skin, uneven texture, and dullness. While it's not a permanent solution to the inevitable wrinkling and loss of firmness that naturally occurs over time, NuFACE users may see temporary improvements in the appearance of their skin firmness and brightness.
It's also a less invasive alternative to anti-aging treatments like Botox injections, dermal fillers, and other procedures that are costly and associated with many side effects.
NuFACE offers four main devices, which are available in various kits with different accessories and attachments. They start at $115 and go up to $399 for the devices themselves. All devices are FDA-cleared and esthetician-approved, according to NuFACE, and they should be used with a gel or serum for best results. Here is how they differ.
Trinity
The NuFACE Trinity is the brand's award-winning and best-selling device. If you've read anything online about a NuFACE device, it was probably this one. The device comes with the standard attachment with two spheres, which contours to the face to reduce the appearance of fine lines and wrinkles. According to clinical studies, 85% of users experienced improved facial contour when using this device.
Mini
For a budget- or travel-friendly option, consider the NuFACE Mini. It's a smaller version of the Trinity. It looks nearly identical and operates in the same way. Since it's smaller, it may take longer to use across your whole face, but it should only take about 5 minutes, according to NuFACE.
FIX
For smaller, harder to reach places, the NuFACE FIX can be a handy tool. You hold it like a pen, so you have more control around delicate areas, such as the eyes and lips. It uses the same microcurrent technology as the full-size product, but it's meant to finish off the routine. The pea-sized spheres are likely too small for your entire face, so this is a device to grab if you want to pay extra attention to the eyes and mouth. It's not only purported to blur wrinkles but can also create the look of fuller lips.
NuBODY
After you've tried the NuFACE facial devices, you may be interested in achieving the same benefits across your whole body. That's where the NuBODY device comes in. It can treat larger areas of the body with its four spheres, such as the arms, buttocks, and stomach, in just a few minutes. According to NuFACE clinical studies, 92% of women showed an increase in skin tone after using the NuBODY device for 30 days.
The full range of NuFACE skin care products and devices is available directly from the manufacturer at mynuface.com. Other online retailers that carry some or all of the devices include Ulta Beauty, Sephora, Amazon, and Dermstore. Some department stores like Nordstrom and Neiman Marcus also carry the brand.
All NuFACE devices work in a similar way. Each device emits low-level currents (aka microcurrents) that send gentle waves through the skin to the facial muscles underneath. It mimics the body's natural current to address a variety of skin concerns, such as fine lines and wrinkles. Its main objective is to tone, lift, and contour.
To use the device, start with a clean face. Wash your face with an oil-free cleanser.
You'll need to apply a generous amount of a gel primer to the area you want to contour. The starter kits for each device include a gel primer, but you'll need to purchase more when you run out.
Turn on the device and place it on the area of skin you want to contour. You use the device by placing it on the skin, holding it there, and moving it to another position when you hear one to two beeps. It may look like the spheres move, but you do not drag the device across the skin. NuFACE offers tutorials on its website to get you started.
Yes, NuFACE devices actually work, but it's not a miracle quick fix. The microcurrent technology is legit, and many users see results.
However, results are usually subtle and you'll have to be consistent. It should be supplemental to your skin care regimen and any in-office treatments.
Reviews of the brand and its products are polarizing.
NuFACE is owned by The Carol Cole Company which is not BBB-accredited and receives a C- on the Better Business Bureau. Complaints to the BBB mainly refer to the company's alleged poor customer service and warranty policy.
Customers on Trustpilot also weren't too happy with the brand, giving it an average rating of 2.2 out of 5 stars. Complaints to Trustpilot heavily centered around technical difficulties with the power button, but some were content with their purchases.
Many customer reviews report on their positive results. "There is a noticeable difference in my jowls," wrote an Amazon shopper. Positive reviews recommend using the device consistently to see results but not to expect unrealistic results comparable to a face lift.
Others saw results but not in a good way. One Amazon reviewer stated that this does the opposite of Botox — it tightens facial muscles instead of relaxes them, making wrinkles more noticeable. Other critiques included the constant need to replace the gel primer, unresponsive buttons, and unpleasant experience. While it's not supposed to be painful, some users do say they've experienced that.
When used properly, NuFACE is generally safe. However, NuFACE should not be used on the neck near the thyroid gland. The brand also recommends against using its devices if you are under 18, are pregnant, have electronic implanted devices like a pacemaker, have seizures, or have cancer. You should also avoid using it on inflamed skin and lesions.
Some users have reported cases of nerve damage and facial pain after using the device. Others have reported instances of arrhythmia, broken capillaries, and stinging.
According to NuFACE, the devices are cleared by the FDA for safety.
If a microcurrent device isn't right for you, there are other alternatives in the world of skin care.
Topical skin care products, such as serums, moisturizers, and creams, can help you care for your skin. They're usually affordable but need to be replaced often. Skin care products should be a staple in your routine to keep skin moisturized but can take a long time to see results.
Similar at-home devices include at-home microdermabrasion and LED light therapy devices.
NuFACE offers starter kits for each device. These contain everything you need to get started: the device itself, charger, and primer gel. Some include multiple attachments or even multiple devices. Remember to start with a clean face and always apply a layer of the primer gel.
If you experience any negative results from using a NuFACE microcurrent device, you should consult your doctor or dermatologist. Using the device over active acne, suspicious lesions, and inflamed skin may worsen existing issues. If you feel any pain or discomfort when using the device, stop using it immediately and contact a healthcare professional if the pain persists.
How long do NuFACE results last?
Results from NuFACE devices are usually temporary and last for a couple of days.
When should you use NuFACE?
You should use NuFACE after you've washed and dried your face and applied a layer of the primer gel. You can use the device in the morning or evening. It's recommended to use the device once per 24-hour period for 5 minutes at a time.
Can you use NuFACE without gel?
The primer gel is an important step of using NuFACE devices. It's conductive and activates the microcurrent device. Without the gel, the device may cause stinging, discomfort, and pain. It also won't work as well.
How close can you use NuFACE to your eyes?
You can use the NuFACE around the cheek and eye area but the device should not touch your eye or be used under the eyes.
There are many at-home beauty devices gaining traction, and the NuFace Trinity is one of the most popular. Microcurrent treatments aren't as widely known, but they can be used to improve some of the signs of aging. They're especially helpful for reviving loss of firmness and dullness.
However, at-home devices like the NuFACE can only do so much. The results are usually subtle and temporary, so it may not be the game changer you were hoping for. As long as you use the device properly, safely, and consistently, you may be one of the happy users who successfully incorporates NuFACE into their routine.
---
Lacey Muinos is a health, wellness, and beauty writer based in Southern California. She holds a BA in English. Her work has appeared in digital publications like Livestrong, Verywell, Business Insider, Eat This Not That, and others. When she's not writing, Lacey is likely pursuing her other interests: skin care, plant-based cooking, pilates, and traveling. You can keep up with her by visiting her website or her blog.