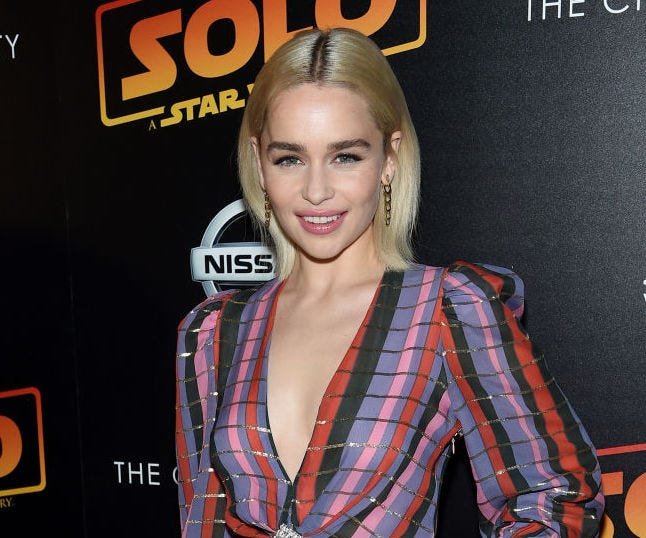 Never ever tell Daenerys Targaryen she needs injectables!
Well, someone dared to pressure "Game of Thrones" star Emilia Clarke, 34, to augment her natural beauty and she quickly shut them down.
In a new interview, Clarke disclosed how it was once suggested she get "fillers" before she was even 30.
"I once had a facialist who told me I needed fillers and I showed her the door," Clarke told Elle UK. "I was literally just like, get out.' Her exact words were, 'Then, you can have your face back.' At that point I was 28."
While undergoing procedures has become more and more common in Hollywood, Clarke believes altering her face could inhibit her ability as an actress.
"I work in an industry where I've got to move my face, and I've got to be expressive, and you can't light filler. You just can't light it. It doesn't look right, you look shiny and strange," she added.
"If my job is telling me that I need to have anything more than possibly a bit of botox when I'm 45 or whatever, then I'll stop doing the job."
The "Last Christmas" actress also disclosed she's never had Botox, but isn't ruling it out in the future.
"I've never had it because I'm petrified, and I definitely don't want it now, but I'm not saying I won't want it later," Clarke said. "I'm allowing myself room to change my mind. But, I don't like the fact that it's suddenly become normal that everybody just gets work done."
The Clinique ambassador said she takes her inspiration from her mother who "never had any work done."
"I look to women and actors who are older than me who are f***ing beautiful and I think what your skin does as you age is elegant," Clarke told the outlet. "I can imagine them all saying 'Ssh, you do not get to talk about this yet,' but I've got lines on my forehead."
LISTEN NOW on the RADIO.COM App
Follow RADIO.COM
Facebook | Twitter | Instagram

[ad_2]
Source link