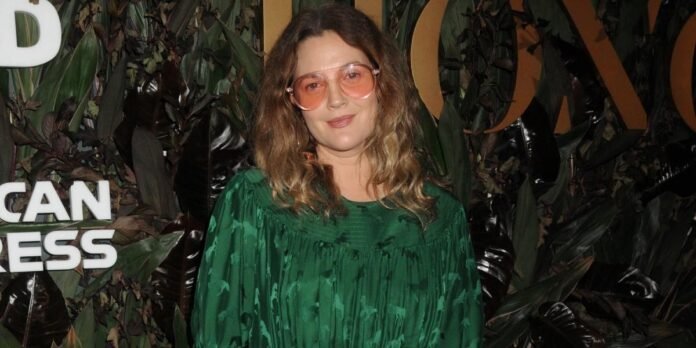 Article continues below advertisement
Despite the blustery 37-degree temperature, the 46-year-old was seen walking around on the pavement totally barefoot! Clearly in a ultra-chill mood, the actress turned talk show host wore a loose grey t-shirt and matching "Free City" sweatpants. She also carried a classic JanSport backpack.
Although she skipped the shoes, she did cover her make-up free face with a mask in compliance with New York state orders, amid the ongoing global COVID-19 pandemic.
DREW BARRYMORE LOOKS GORGEOUS WHILE DISCUSSING HER BEAUTY LINE IN NYC
Underneath the mask, Barrymore is plastic surgery free. While many celebs are big fans of Botox and fillers, the brunette beauty is determined to age naturally. 
While speaking about skincare with Ross Matthews on The Drew Barrymore Show, the former child star said she has never done anything to her face and "I would like to try not to."
Article continues below advertisement
"Never say never," she added, but clarified that one thing she's never doing is getting married again after her divorce from Will Kopelman, with whom she shares 8-year-old daughter Olive and 6-year-old daughter Frankie.
"The thing that I do care about and I do feel is still relevant to my life is the face. I know myself. I'm a highly addictive person, Ross. And I do one injection, I'm going to look like Jocelyn Wildenstein by Friday," the Never Been Kissed star explained. 
Article continues below advertisement
Barrymore has previously opened up about avoiding going under the knife and set up her own skincare line, Flower Beauty, in 2013.
"I'd love if there was some way we could let go and give into the ride a little bit more," the boho babe told Matthews. 
"We're going to age, things are going to go south, and it's OK. It's a part of life."
The brunette beauty added that she feels more "human and vulnerable" each year but also knows "how to appreciate each year," and is content being "boring," "safe" and "healthy."