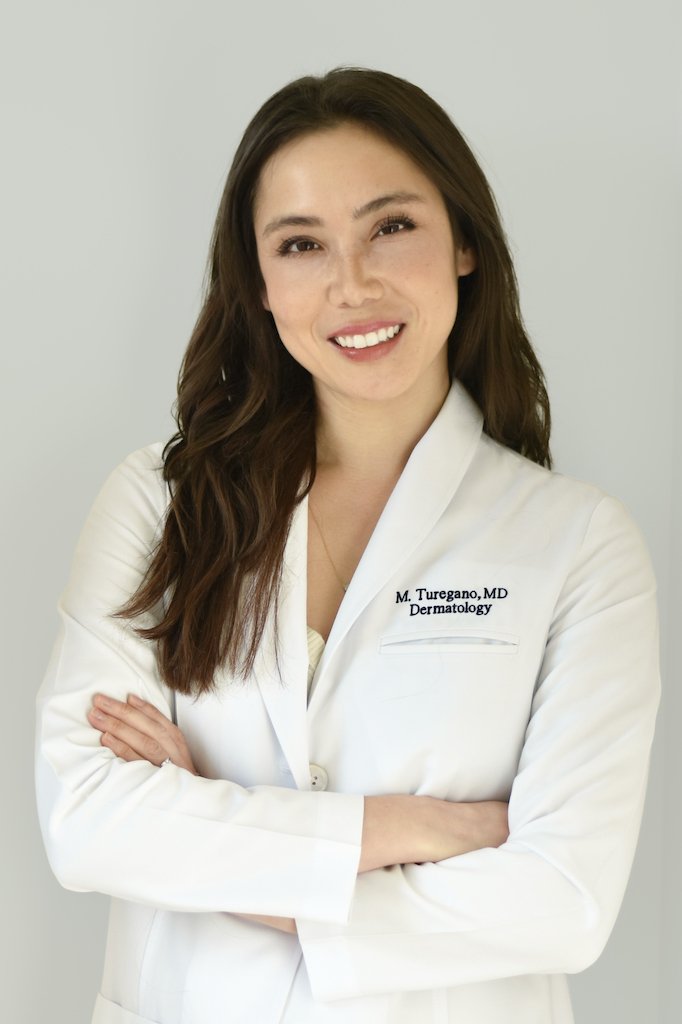 Mamina Turegano, MD, is a triple board-certified dermatologist, internist, and dermatopathologist. She graduated summa cum laude from Centenary College, where she studied neuroscience and piano performance and received her medical degree from Louisiana State University School of Medicine in New Orleans. During her time in medical school, Dr. Turegano served as president of the Integrative Medicine Interest Group. She then completed a five-year double residency program in internal medicine and dermatology and served as chief resident at Georgetown University Hospital and MedStar Washington Hospital Center in Washington, D.C. After working in private practice dermatology in the metro D.C. area, she moved to Los Angeles to pursue a fellowship in dermatopathology at UCLA. She currently practices at Sanova Dermatology in the great New Orleans area. She also serves as a dermatologist for an online dermatology practice called Apostrophe.
Dr. Turegano has a special interest in evaluating how nutrition, lifestyle, sleep, and other environmental factors can play a significant role in inflammation, aging, and cancer. She enjoys incorporating holistic practices in her patients who deal with anything ranging from acne to warts. Dr. Turegano has an active and thriving cosmetic and laser practice, where she performs various neuromodulator (Botox, Dysport, Jeuveau) and filler injections (Juvederm, Restylane, Belotero). She also performs Kybella, micro-needling, chemical peels, and plate-rich plasma PRP injections. Given her background in internal medicine, she also has an interest in complex medical dermatology, including autoimmune skin diseases and psoriasis. In addition to practicing dermatology, Dr. Turegano is serving as the dermatopathologist for Sanova Dermatology in Old Metairie. She continues to educate herself through various conferences and online programs to become more knowledgeable in the field of cosmetic dermatology, anti-aging, and integrative/holistic/functional dermatology.
Dr. Turegano plays an active role in social media, particularly Instagram and TikTok. In addition to providing skincare tips and knowledge on dermatological conditions through her social media platforms, she shares her Japanese mom's anti-aging tips, which incorporates holistic and traditional Japanese beauty practices.
Dr. Turegano has published articles in the Journal of the American Academy of Dermatology, Pediatric Dermatology, Journal of the American Medical Association – Dermatology, and Journal of Cutaneous Pathology. She has received multiple awards for her presentations at international dermatopathology meetings and is also a recipient of the American Society of Dermatopathology Mentorship Award.
Dr. Turegano grew up in Tarrytown, NY with three younger sisters in a very humble but loving household. At the age of 12, she attended a performing arts boarding school in Seoul, Korea for two years and studied piano. After living in various parts of the New York, New Jersey, and Connecticut regions, she and her family moved to New Orleans (her father's hometown) at the age of 16. In her spare time, Dr. Turegano likes to explore what makes her feel present. She enjoys dancing (hip hop mostly), rollerblading, ice skating, tending to her vinyl records (or their Spotify equivalents), playing piano (mostly classical), watching sunsets, hiking, and hanging with her husband. After her father passed away, she spends more time with her mom to help care for her sister, who suffered severe brain injury in a car accident.