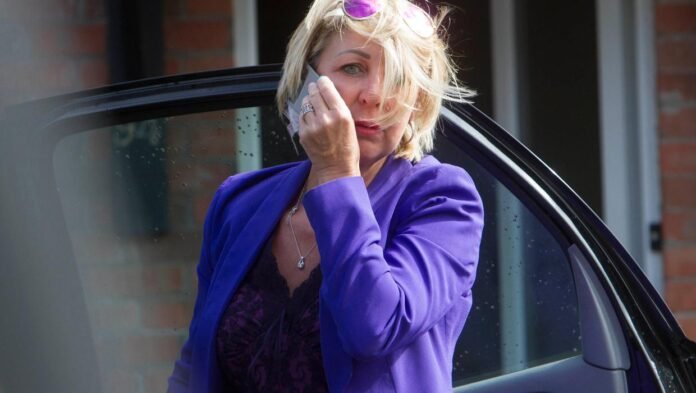 A dodgy Botox beautician has to pay back more than £30,000 in fraudulently claimed housing and unemployment benefit, a court has heard.
arbara Byne is also trying to sell her flat in a bid to repay the money she scammed out of the Social Security Agency and the Housing Executive over the course of five years.
A confiscation hearing against Byne at Belfast Crown Court last week heard the case had been severely delayed due to the Covid pandemic.
The prosecution barrister said Byne (55) had also been struggling to sell her flat in order to comply with the sum she had been ordered to pay back.
She added that Byne had also offered £25,000 in cash to the authorities by way of settlement but the total amount stands at £31,000.
Asking for the case to be adjourned until after the Easter legal recess, she said the Crown would also be seeking the sale of her apartment as part of the recovery process.
Judge Patrick Kinney granted the adjournment and listed the case to be heard again on April 29.
Byne, whose home address cannot be reported for legal reasons, swindled the five-figure sum in part while she was flogging Botox injections and other beauty treatments.
Her east Belfast clinic, called Skin Techniques Belfast, earned Byne her first appearance in court after she was busted for illegally advertising and selling a powerful local anaesthetic in 2017.
Sunday Life revealed she had pleaded guilty at Belfast Magistrates' Departmental Court to four charges under the Human Medicines Regulations.
Byne admitted to possessing, advertising and supplying or selling painkilling Lidocaine epinephrine injections between November 2016 to November 2017.
The prescription drug is used by qualified practitioners to numb tissue in a specific area.
Procedures which she plugged on Facebook, included body and genital piercings, Botox and laser tattoo removal with the option to "numb your piercing if you prefer no pain".
She littered her profile with before and after pictures of men and women who have undergone procedures at her shop, some at a cost of £850.
Byne attracted glowing reviews from her satisfied punters, with one writing: "Love my lips after getting lip fillers, Barbara is such a lovely woman made me feel so relaxed and comfortable."
Byne also specialised in lip fillers at £150 a go, recommending them as gifts for events like Christmas and Mother's Day.
But she was landed in court after a probe by the Department of Health's Medicines Regulatory Group led to a search of her home in February 2017.
Byne was eventually given a conditional discharge by District Judge Ken Nixon.
Just under three years later she was back in court where she pleaded guilty to seven counts of benefit fraud.
The charges were dated between April 2009 and January 2016, and included when Byne had set up Skin Techniques Belfast.
At Belfast Crown Court she was sentenced to six months in jail on each count, suspended for two years.
Byne has previously refused to speak to Sunday Life when contacted for comment.