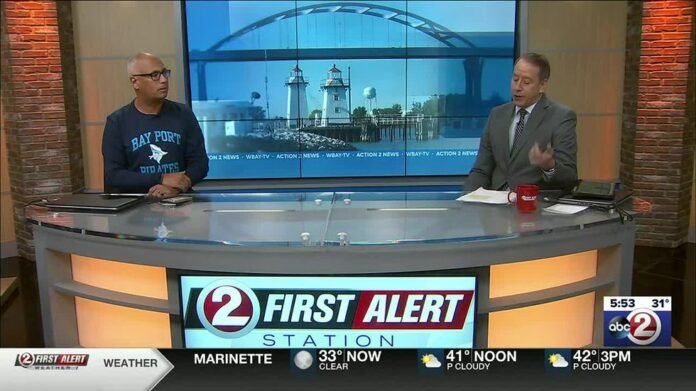 GREEN BAY, Wis. (WBAY) – Starting March 22, two million Wisconsin residents with medical conditions will be eligible for the COVID-19 vaccine. One of the biggest questions is will you have to show proof of your medical condition to get a shot?
"As we look at the people who are eligible because of their medical conditions, we are not going to ask you to bring your medical record or prove to us that you have kidney disease. That's a personal thing. What we ask is you be honest about it," says Prevea Health President & CEO Dr. Ashok Rai.
CLICK HERE to see if you're eligible.
CLICK HERE for the First Alert Vaccine Team guide to making an appointment.
Dr. Rai joins us Tuesdays and Thursdays on Action 2 News This Morning. Have a question? Email news@wbay.com.
Previous Dr. Rai segments: https://www.wbay.com/health/drrai/
MEDICAL CONDITIONS ELIGIBILITY MOVED UP
People with certain medical conditions can get vaccinated starting March 22. How does that impact local clinics?
"Pivot is the word we use at Prevea, so it was a pretty quick pivot that those that are eligible, those that have underlying health conditions, our website and the DHS website has a list of those conditions, and if you're eligible, you can start getting vaccinated this Monday, March 22. You can start registering for that now with us, but understand we can't actually get you in for an appointment until next Monday. Even if one is offered to you, those are for the other eligible classes before that."
DEMAND
"We've got a lot of phone calls, a lot of concerned people. There's some nuances to it because it's a very large class of people. Our hope is to be as efficient as we have been and get people in as quickly as we can."
CATHOLICS AND JOHNSON & JOHNSON VACCINE
Some Catholic leaders are urging people to get the Pfizer or Moderna vaccine over the Johnson & Johnson vaccine.
"I think the other thing that the bishops have said is to get vaccinated, and that's really important. It's part of that mission of the common good. We can't give exact transparency at the time you sit down in a chair. There's not going to be three vaccines on a shelf and help you pick. What you can do here is know what you're going to get. The CDC has said that all vaccinators should provide transparency when you're scheduling your appointment. You can look at the site and it can tell you what date you're getting what. What date's Pfizer, what date's Moderna, what date's J&J right on the screen and that's prevea.com/vaccine. It's fully transparent when you're making your appointment. The CDC was pretty strong when they launched J&J that we should provide transparency at the time of the appointment making."
UNDERLYING HEALTH CONDITIONS IN WISCONSIN
"I really hope it is an alarm. If you think of all the people who qualify, two million people. That doesn't include those who are 65-and-older, that doesn't include those that are under the age of 16. So when you look at our percentage of population, that's a pretty big chunk of our population. So, when we're done with the pandemic, we have to deal with a health crisis that we've ignored for decades in the state of Wisconsin and in this country, is that we have way too many people who qualify for this list. We need to take better care of ourselves. It's been a hard year to do that, and I think we all understand that. Myself included have not been perfect, not even close this year. But there are many things we can do to improve. That's got to be our focus when we're done with the pandemic is to live a healthier life."
HOW WILL CLINICS HANDLE MORE VACCINATIONS?
On March 22, Wisconsin opens up vaccinations to two million people with medical conditions. How will the vaccinators handle all of those extra people? Will it cause chaos for health care?
"We can handle it. Chaos is probably not the word I would use. We want everybody to be patient. I think that's what's really going to frustrate people is getting an appointment. A lot of that is really going to be dependent on supply. Initially we were getting 70,000 doses a week, then up to 130,000 doses in the state, and we're hoping that will get up to a quarter-million here very soon. That being said, if you look at two million people that need to be vaccinated, and we usually don't move to that next phase, and it's really up to the state, that next group of eligible people, until at least more than half of that's done. That's over one million people. If you're doing the math with me, it's going to take longer than four-to-five, maybe six-to-seven weeks before you're really ready to move into everybody. So, be patient. It will really depend on supply. And make sure that when you do get an appointment you get your shot. It won't be chaos at the sites because we don't allow people to come unless they have an appointment."
SHOWING GRATITUDE
Viewers who are thankful for Dr. Rai's segments on COVID-19 want to know how he's doing and how they can show gratitude.
"I'm holding up just fine. It's been a long year, but we can see that finish line and we can almost feel it, so we don't want to give up right now, and that's what we're asking of you. If you want to know what you can do for health care today is wear your mask. Do the right things. Remain physically distanced. When you are eligible, get your shot. That's what you really can do for health care, because we kind of want our lives back, for lack of better words. We won't stop until our community is safe, so for us to have a breather, we need to make sure the community's safe, do the right things, get vaccinated and we'll be good."
COVID RECOVERY AND VACCINATIONS
Does someone who's had COVID-19 need the vaccine? How long can they wait? Is it more effective or less effective for people who have been infected?
"It's a great question. It's probably the most common question I get when I do town halls or interviews is 'I've already had COVID, should I get the vaccine and why do I need it?' Well the level of protection has not been as predictable when somebody's had that natural infection. Everybody's had the infection in different degrees, their immune response is a little different. Their body is doing different things. The CDC has said it's a little more predictable with the vaccine, so get the vaccine. It's a more predictable level of immunity. How long should you wait? Until you're recovered from COVID, which is generally over 10 days. But it's not 90 days, it's not 120 days, so once you're recovered get the vaccine, have that predictable level of immunity and move forward. When should you get it? When you're eligible. Make sure that you get it. Sign up. Don't wait."
IS PROOF OF MEDICAL CONDITIONS NEEDED?
Do people with medical conditions need to show proof of their ailments to get the vaccine?
"It's a great question because we asked the same thing of the state. So, it's not that we as vaccinators don't have the same questions. So let's just be clear for those that are eligible, based on your appointment to your job duty, we're still going to ask you to bring some sort of proof of eligibility and you'll attest to it when you're on our website. You'll say 'I am eligible' and there will be a link to look at the list of people who are eligible. As we look at the people who are eligible because of their medical conditions, we are not going to ask you to bring your medical record or prove to us that you have kidney disease. That's a personal thing. What we ask is you be honest about it. The state's asking that. You'll still have to attest. You'll have to say, 'I am eligible, I have that.' We won't be asking for proof of it. Understand if you're not on that list and you get in to be vaccinated, you're taking that vaccine away from somebody who really needs it. There is an honor system. There is the system of taking care of your neighbor. Let's make sure people who need it get it first."
INJECTIONS AND COVID VACCINE
A viewer gets steroid injections and Botox for migraines–would those impact her ability to get the COVID-19 vaccine?
"Let's break those two injections apart. The Botox injection shouldn't be an issue. The steroid injection could be an issue. We do usually ask that you have that at least two weeks, maybe even longer, before you're scheduled for you're COVID vaccine, and not to have it until two weeks after your second shot, just to give enough of that window to make sure your body has a good enough immune response. There's not a whole lot of definitive science on those dates, but those are some of the general recommendations from the medical societies that deliver those medications on a regular basis."
LONG-TERM CARE AVAILABILITY
"If you look at our eligibility list it's under that Medicaid programs and there's a breakout that actually lists IRIS and the other programs in there, so if you're part of those programs, you're eligible now. Sign up."
Copyright 2021 WBAY. All rights reserved.