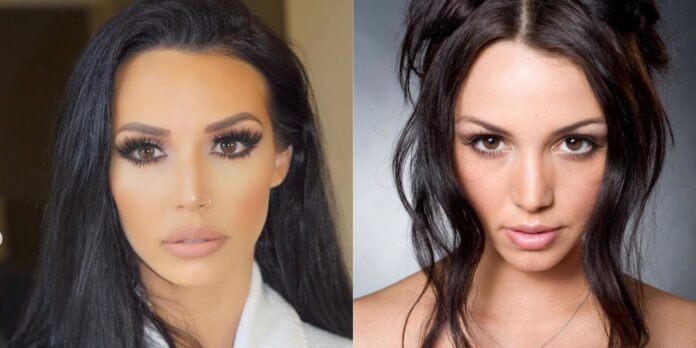 Vanderpump Rules star Scheana Shay has been under fans' scrutiny for her new face and especially her nose. So, did she have a rhinoplasty done?
Many Vanderpump Rules fans are curious to know if Scheana Shay had any cosmetic procedure to enhance her looks. Previously, she has confirmed getting fillers and botox, but denied getting any plastic surgery done. Still, the change in her nose is quite visible in her before and after pictures. Check out the photo she shared on her Instagram. 
The Vanderpump Rules cast first appeared on-screen in the year 2013, and a lot has changed in the last seven years, especially their physical appearance. Kristen Doute is popular for having botox injections here and there. And in October 2015, she had facial reconstructive surgery following a mishap with an Uber. Another Vanderpump Rules star, Brittany Cartwright, stayed away from any facial injections. However, in 2018, she wished to have a sharper face and got a Kybella injection to reduce her double chin. She also had breast implants and went from C-cup to a D-cup in 2016. LaLa Kent is also widely popular for openly talking about the cosmetic enhancements she got done over time. She had breast enhancement surgery, lip injections, botox, and fillers. 
Continue scrolling to keep reading
Click the button below to start this article in quick view.
Related: Is Vanderpump Rules Series Officially Over?
The 35-year-old Scheana Shay's face has been changing gradually over the last few years. She has admitted to having botox and lips injections on her Twitter, but she said that she has never undergone any medical surgery to accentuate her looks. Still, her nose looks visibly sleeker than before, and the bridge area is quite sculpted. Check out the picture she posted on her IG. The actress claimed that "A lot has changed, like the way I apply makeup/contour, but I'm still ME (no plastic surgery)." 
But, some of her 1 million IG followers aren't buying the "makeup/contour" story. One of her critics commented, "You are frauding Schaena. You definitely had rhinoplasty. I'm a contour pro, but there's no way you can contour a whole new bridge and tip. I just don't understand the need to hide or lie." Another one said, "There is no way in hell you didn't have your nose done."
Scheana maintains that her face looks different because she has lost weight. She tweeted, "I lost weight. I didn't have work done. Believe what you want. My makeup is better and my face is thinner. Simple as that." Well, every other reality TV celeb is having some kind of enhancement done to have a perfect sculpted look. So, there's no need to hide it if she has actually got something done to her nose. A famous example are the Keeping Up With The Kardashians stars, who are pretty vocal about their implants. Perhaps, the Bravo star didn't have any surgery. It's possible that she applies a heavy contour or just Facetunes her pictures to look a certain way. 
Next: VPR, Southern Charm, RHOD & The Challenge Firings Reveal PR Apologies
Source: Slice, Betches, Scheana Shay
90 Day Fiancé: Why Fans Are Finally Turning On Mike Youngquist
About The Author