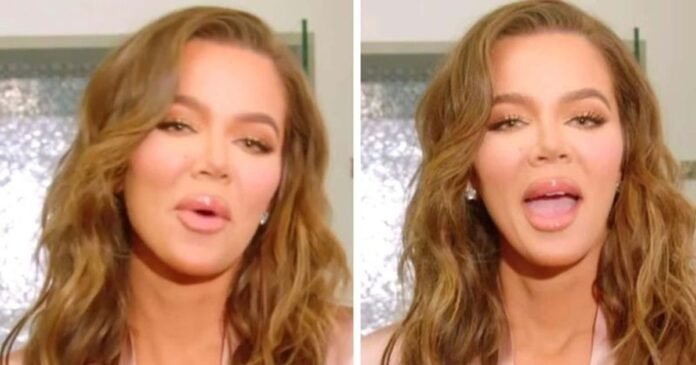 Just days before the final season of 'Keeping Up With The Kardashians' airs, reality star Khloe Kardashian shocked fans worldwide after her latest video on Instagram hinted at prospective plastic surgery, especially with an apparently "botched" shape regarding her lips, nose and seemingly tired eyes. 
In the promotional video, where she was unveiling the new Glam Bag X Collection in collaboration with IPSY, Khloe was seen with a 'different' face than usual, prompting her followers to speculate what procedures she has undergone this time. While many slammed her for her affinity for cosmetic surgeries, many of her fans defended her saying she looks beautiful no matter what. 
READ MORE
Is Khloe Kardashian engaged to Tristan Thompson? Here's the cost of her giant diamond ring
Who is Patrick Christys? Journalist says Meghan Markle wants to be 'high-class Kardashian' after Oprah interview
Did Khloe Kardashian undergo surgery recently?
Khloe's new face has led to a barrage of internet jokes, with users slamming her for "rebooting" her face. "Khloe kardashian reboots her face every 2.5 months and I am always stunned at what the new update gives," wrote one user.
This time, she was particularly slammed for the strange appearance of her lips, which seemingly looked botched and unnatural in one part of the video. In another scene where the camera zooms in on her face, the crevices on the side of her nose can be seen vividly, with the tip looking to have suffered from several cosmetic procedures. In fact, some users drew a similarity between her "new nose" and that of Michael Jackson's. "Khloe Kardashian fcked up big time. not the white Michael Jackson nose," wrote the concerned fan.
Some fans hoped that her nose looked unusual and weird simply from bad contouring, and not an actual surgery gone awry. "I'm pretty sure Khloe just had a bad nose contour job and not an actual bad nose job," wrote a user. "Khloe I understand your wanting to change things you didn't like and you look great, but PLEASE stop before your nose collapses like MJ or you wind up looking like Jocelyn Wildenstein," warned another concerned fan.
Fans blame 'bullying' 
Twitter users continued to slam and scrutinize the Kardashian sister. "Khloe who did this to you," posted a user. "The devil works hard but no one and nothing works harder than Khloe's FaceID," joked another. Another launched quite a below-the-belt attack – "I know this is how True looks at Khloe Kardashian after every surgery."
Amid all the hate, fans of Khloe stood up for her and blamed the constant bullying and hatemongering by the public, as well as the never-ending comparison with her sisters, as the reason for Khloe's supposed insecurity, which has led her to undergo so many procedures. "Khloe is a perfect example of why you shouldn't care what other people think of you because you'll never win with them. She grew up being compared to her sisters and was called ugly. She gets plastic surgery to "fix" that and she still gets shamed and criticised for it," wrote one fan.
"I actually feel for Khloe… she's constantly been referred to as the ugly sister, constantly made fun of online for over a decade, I feel like she was practically bullied (yes she had a choice but you know what I mean) into multiple plastic surgeries," another spoke up in her support. "The way we collectively bullied khloe k in to surgically altering her appearance just to bully her for surgically altering her appearance," spoke out another user.
One fan called out the body-shaming by viewers: "Khloe was perfect the way she was then society body shamed and compared her to her sisters She is now like them and still getting bullied and here she is trying to look perfect and it gets worse."
If you have an entertainment scoop or a story for us, please reach out to us on (323) 421-7515