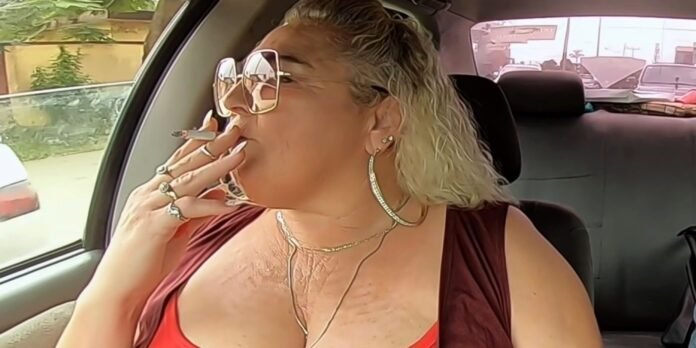 Angela Deem has always been open about her cosmetic treatments. But check out her latest picture, which hints that her Botox is withering.
While waiting for her husband, Michael Ilesanmi, to immigrate to America, the former 90 Day Fiance: Happily Ever After star Angela Deem underwent a full-body transformation. Although she didn't reveal the kind of weight loss she had, it appears that she underwent bariatric surgery. She also pampered herself with temporary Botox treatment and showed off a youthful look. However, one of her latest pictures on Instagram suggests that she has quit getting Botox injections. Is it because her husband gets anxious when she gets any kind of cosmetic treatment?
During 90 Day Fiancé: Before the 90 Days season 3, Angela talked about how she wants to look younger for her man, who is more than 20 years her junior. She wanted to impress Micheal and said, "I want to look as fresh as I can and maybe a little younger." In December 2019, she posted some pictures on Instagram in which she was looking pretty young. When some fans thought it was the magic of a photo filter, Angela admitted getting cosmetic procedures, which gave her a younger-looking appearance. After the lockdown lifted in Georgia, the 55-year-old TLC star took a four-hour trip to Atlanta. She visited Dr. Wright Jones to freshen up her youthful look. During the visit, she reportedly spent $3,000 on her Botox and fillers. 
Continue scrolling to keep reading
Click the button below to start this article in quick view.
Related: 90 Day Fiance: Former Couples Who Have Bad Blood & Aren't Quiet About It
After the treatment, fans could hardly see any wrinkles on her face; her laugh lines and crow's feet almost diminished. She was looking absolutely amazing in her shimmery Christmas dress while parting her golden locks sideways. But, some of her recent appearances on social media hint that she stopped getting Botox injections. She recently did a live session on her Instagram, during which fans could see the beautiful creases on her skin. Check out the picture from October 2020 (left), and the latest photo from her Instagram Live in February 2021 (right):
The internet says that Botox injections typically last for about three or four months. So, Angela is either avoiding getting them or has decided to stay off these temporary treatments for a while. After all, her Nigerian beau was against getting invasive procedures, which can sometimes have harmful side effects. It's also possible that she is trying to be as healthy and natural as possible so that she could "tote" a baby in the future!
Even though Angela's Botox effect is withering, she is pretty confident in her body and still conducting live sessions on Instagram. Thanks to her weight loss surgery, it helped her get rid of extra kilos. The surgery helps to lose weight and also has added benefits like improved fertility and relief of depression. 
Next: 90 Day Fiance: Rebecca Suffers Makeup Malfunction On 'Facetuned' Face
Source: Angela Deem/Instagram
90 Day Fiancé: The Least Sincere Women From The Current Season, Ranked
About The Author