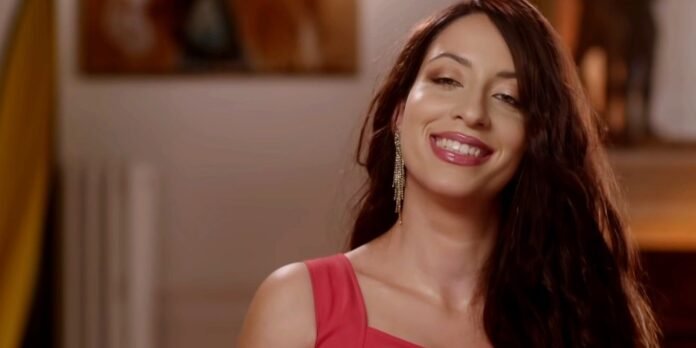 A fan page compared Amira Lollysa's old picture with a recent photo. Fans were shocked by the difference and attributed the change to plastic surgery.
A 90 Day Fiancé fan page unearthed some of Amira Lollysa's pictures from the past. She looks very different from her old self, which has suggested to many fans that she had some plastic surgery work done. Let's look at her before and after pictures and figure out whether cosmetic surgeries are responsible for her current look.
Amira and fiancé Andrew Kenton's love story isn't going the way viewers expected. Fans are halfway through the season and the couple hasn't even reunited in the United States. Their plan to meet in Mexico failed miserably, and now Amira's father thinks his potential son-in-law isn't "a man." Still, many 90 Day Fiancé viewers are convinced TLC wouldn't disappoint its audience. They will give this couple a gripping story in the coming episodes. In the meantime, Amira is receiving a lot of attention from her fans in the real world. She is also getting messages from former 90 Day stars, like Ash Naeck. 
Continue scrolling to keep reading
Click the button below to start this article in quick view.
Related: 90 Day Fiancé: Fans Say Julia's Alleged Ex BF Is A Hunk, Brandon's A Chump
Amira must be flattered to gain so much attention, but she might not enjoy the recent piece of content posted by a 90 Day Fiancé fan page. The fan page posted Amira's throwback picture, along with a recent Instagram photo, and asked, "Can You Spot the 7 Differences?" A fan quickly commented, "SEVEN?! I can find you like 15." The old picture is taken from Amira's Facebook account, where it was posted in April 2018. The recent one was from her Instagram and was shared in December 2020. The half-French and half-Egyptian beauty looks quite different in the pictures, but doesn't look completely unrecognizable. Check out the photo comparison posted by the fan account, @90daytweets:
Many 90 Day Fiancé viewers are shocked to see Amira's old image. They commented things like, "Wait are they both her??" and "2 different people." One fan quickly addressed the elephant in the room, writing, "Nice surgeries." Another fan wondered if the first picture was taken before Andrew came into her life, and the other one was clicked after he gave her "dollars" and she invested them "in esthetic [sic] procedures." There is definitely a change in both the pictures, but it doesn't necessarily mean she had plastic surgery to achieve her look. 
Amira has certainly lost some weight because she looks much slimmer in the second pic. But, as far as cosmetic procedures are concerned, it doesn't look like she has breast implants. However, she may have gotten lip fillers, as her lips look much bigger and puffier. Since the picture isn't high resolution, it is difficult to say if the TLC star had a nose job or botox. Overall, it looks like Amira has upped her makeup game while maintaining a healthy regime.
Next: 90 Day Fiancé: Redditor Shared 'Juicy Truth' About Brandon's Family Friend
90 Day Fiancé airs Sundays at 8 pm ET on TLC.
Source: Amira Lollysa/Facebook, Amira Lollysa/Instagram, @90daytweets
90 Day Fiancé: Skinny Angela Deem Looks Half Her Age In New Stunning Pic
About The Author