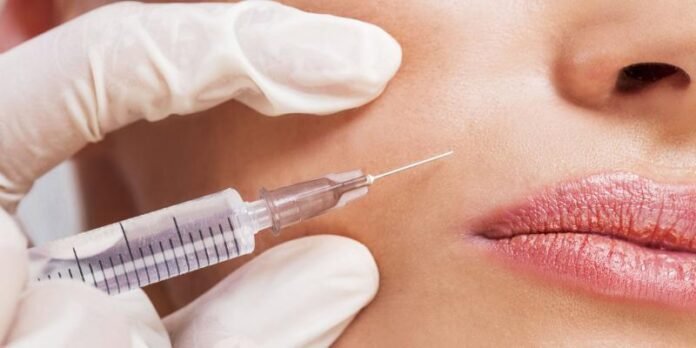 Global Dermal Fillers Market
The global dermal fillers market size was valued at USD 6.7 billion in 2021 and is expected to hit around USD 13.4 billion by 2030, poised to grow at a compound annual growth rate (CAGR) of 8.01% during the forecast period 2023 to 2032.
Dermal fillers are less invasive procedures that utilise gel-like ingredients. These come in the form of injectables, which are applied to the facial skin to improve appearance. Due to the increasing popularity of these cosmetic operations, there is a rising demand for them. These treatments give the skin a more youthful appearance by minimising the number of wrinkles. These procedures are used to treat acne scars as well as to improve the appearance of the lips and fix facial wrinkles. Dual income households and increase disposable income across the developing as well as the developed nations will drive the market growth for the dermal fillers market in the coming years.
Market Definition
The purpose of dermal fillers is to impart volume and fullness to the skin through injection. A mineral-like substance found in bones called calcium hydroxylapatite, hyaluronic acid, polyalkylimide, polylactic acid, and polymethyl-methacrylate microspheres are among the ingredients utilised in dermal fillers (PMMA). Deep dermis, depth of implantation (superficial midterms and upper and subcutaneous levels), longevity of correction (temporary and permanent), allergenicity, the agent's composition (allografts, semi/fully synthetic, xenografts, or autologous), and stimulatory behaviour (physiologic processes of endogenous tissue proliferation) versus replacement fillers are some of the criteria that can be used to classify dermal fillers (space-replacing effect).
Biodegradable, temporary dermal fillers with durations of 4 to 9 months include HA and collagen. Dissatisfaction and potential adverse effects are both transient. In order to save long-lasting fillers for subsequent patient visits, temporary fillers are always employed as the initial line of treatment.
Permanent fillers are mostly utilised to treat deep skin wrinkles and furrows that go beyond the scope of typical face creases. They are regarded as a top choice for face rejuvenation, particularly in HIV lipodystrophy. PMMA is mostly employed for effects that are long-lasting, safe, and effective.
Report Scope:
The primary and secondary research is done in order to access up-to-date government regulations, market information and industry data. Data were collected from the Dermal Fillers manufacturers, distributors, end users, industry associations, governments' industry bureaus, industry publications, industry experts, third party database, and our in-house databases. The report combines extensive quantitative analysis and exhaustive qualitative analysis, ranges from a macro overview of the total market size, industry chain, and market dynamics to micro details of segment by type, application and region and as a result provides a holistic view of as well as a deep insight into the Dermal Fillers market covering all its essential aspects.
Click Here To Get Sample PDF: https://analyticsmarketresearch.com/sample-request/dermal-fillers-market/55250/
Marlet Segmentations:
Global Dermal Fillers Market: Segmentations
Global Dermal Fillers Market: By Key Players
Allergan
Galderma
LG Life Science
Merz
Medytox
Bloomage
Bohus BioTech
Sinclair Pharma
IMEIK
Suneva Medical
Teoxane
Luminera
SciVision Biotech
Haohai Bio
Global Dermal Fillers Market: By Types
HA
CaHA
PLLA
Global Dermal Fillers Market: By Applications
Micro-plastic and Cosmetic
Anti-Aging
Global Dermal Fillers Market: Regional Analysis
The countries covered in the regional analysis of the Global Dermal Fillers market report are U.S., Canada, and Mexico in North America, Germany, France, U.K., Russia, Italy, Spain, Turkey, Netherlands, Switzerland, Belgium, and Rest of Europe in Europe, Singapore, Malaysia, Australia, Thailand, Indonesia, Philippines, China, Japan, India, South Korea, Rest of Asia-Pacific (APAC) in the Asia-Pacific (APAC), Saudi Arabia, U.A.E, South Africa, Egypt, Israel, Rest of Middle East and Africa (MEA) as a part of Middle East and Africa (MEA), and Argentina, Brazil, and Rest of South America as part of South America.
Growth Factors
In the upcoming years, the market will expand due to the accessibility of these procedures worldwide and increased knowledge of the advantages they offer. As many of the concerns about these procedures have subsided in recent years, the market has improved. These cosmetic operations were once taboo, but ongoing awareness campaigns and improved technology have assisted in delivering positive results, increasing the use of these procedures in the global market. By increasing the amount spent on research and development activities, several large corporations are focusing on boosting the manufacturing of these injectables. Constant research and development in the field of dermal fillers have helped him coming up with advanced and innovative products. These new products or the innovative products will have a major contribution in the growth of the market in the coming years.
Due to the introduction of these new items, the need for cosmetic operations is anticipated to increase. When compared to other cosmetic treatments, these are painless and simple. Additionally, there is less risk involved with these procedures. Additionally, recovery time is shorter. New products that are introduced to the market have a wide range of users. They are applied in several cosmetic operations. The result of these research efforts will be the creation of a biodegradable and suitable dermal filler in 2021. The market for dermal fillers is anticipated to expand strongly during the projected period due to the need to improve facial characteristics and slow down skin ageing. Due to a growing demand for these procedures in the men the manufacturers are focusing on providing new products for this demographic sector.
Know More: https://analyticsmarketresearch.com/reports/dermal-fillers-market/55250/
Material Insights
The market demand for hyaluronic acid will be the highest over the forecasted period. In the past, this market segment held a commanding position, and over the forecast period, it is anticipated to continue to expand strongly. When it comes to its application in the dermal filler technique, this material has a gold standard. The introduction of new goods that have aided in the development of this market has been made possible by increased investments in research and development operations. Due to its safety and durability in comparison to other materials on the market, this material is anticipated to have the highest demand. Both the North American and the European regions will have a higher need for this substance.
An Overview of the Impact of COVID-19 on Market: The emergence of COVID-19 has brought the world to a standstill. We understand that this health crisis has brought an unprecedented impact on businesses across industries. However, this too shall pass. Rising support from governments and several companies can help in the fight against this highly contagious disease. There are some industries that are struggling and some are thriving. Overall, almost every sector is anticipated to be impacted by the pandemic. We are taking continuous efforts to help your business sustain and grow during COVID-19 pandemics. Based on our experience and expertise, we will offer you an impact analysis of coronavirus outbreak across industries to help you prepare for the future.
Click Here To Purchase Market Report: https://analyticsmarketresearch.com/purchase/dermal-fillers-market/55250/?license=single
Frequently Asked Questions
• What is the current size of dermal fillers market?
• What will be the CAGR of global dermal fillers market?
• Who are the prominent players operating in the dermal fillers market?
• Which are the driving factors of the dermal fillers market?
• Which region will lead the global dermal fillers market?
Contact US:
Analytics Market Research
99 WALL STREET, #2124 NEW YORK, NY 10005
Phone: +1(650)-666-4592
Email: sales@analyticsmarketresearch.com
Website: * https://analyticsmarketresearch.com/contactus/
Let's connect on LinkedIn: https://www.linkedin.com/company/analytics-market-research/
Let's connect on Facebook: https://www.facebook.com/people/Analytics-Market-Research/100086022874594/
Let's connect on Twitter: https://twitter.com/AnalyticsMRR
About US:
Analytics Market Research is an established market analytics and research firm with a domain experience sprawling across different industries. We have been working on multi-county market studies right from our inception. Over the time, from our existence, we have gained laurels for our deep rooted market studies and insightful analysis of different markets.
Our strategic market analysis and capability to comprehend deep cultural, conceptual and social aspects of various tangled markets has helped us make a mark for ourselves in the industry. Analytics Market Research is a frontrunner in helping numerous companies; both regional and international to successfully achieve their business goals based on our in-depth market analysis. Moreover, we are also capable of devising market strategies that ensure guaranteed customer bases for our clients.
This release was published on openPR.