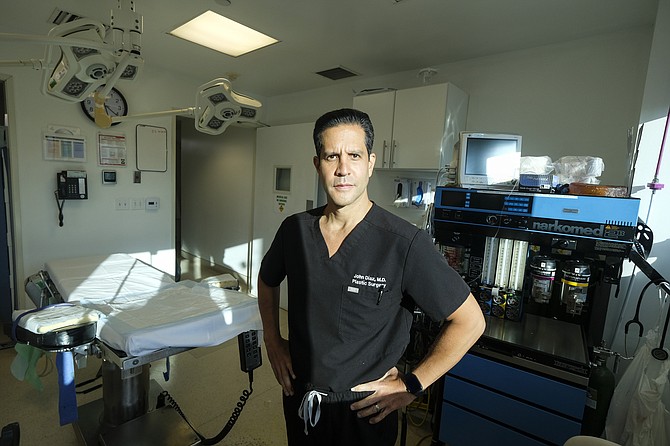 Photo by Ringo Chiu.
Beverly Hills-based plastic surgeon Josef Hadeed began to notice something unusual as the coronavirus pandemic wore on.

More and more middle-aged businessmen were drifting into his practice seeking Botox for brow furrows and filler for facial creases and crevices. One even asked about "turkey neck" surgery.

Eventually, Hadeed came to understand that the men, seeing themselves on video conference screens as they worked remotely, had grown insecure about their appearances.

"They don't want to be the oldest person on a video screen with eight or 10 other people," Hadeed said. "They want to look just as good, or better, than everybody else who's on the screen." 

While clientele for cosmetic treatments and elective plastic surgeries remains overwhelmingly female, Hadeed's experience highlights a pandemic-fueled swell in demand for Los Angeles plastic surgeons.

Covid-19, it seems, has overtaken the selfie-conscious focus of Facebook, Instagram, Snapchat and other social media platforms as the latest driver for the plastic surgery business.

"I have seen it across the board," Hadeed said. "Everything from Botox and Juvéderm (filler) to facial surgery to facelifts to rhinoplasty, down to liposuction of the body, and everything in between."

"I'm the busiest I've ever been," he added, "and I have the Covid to thank." 

He's not alone.

"I'm in constant contact with a lot of our members," said John Diaz, president of the Los Angeles Society of Plastic Surgeons. "It seems to be common feedback."

Diaz, who practices in Beverly Hills, saw business fall off after safer-at-home orders were issued March 19. But after restrictions began easing in May, he saw a surge in patient volume. 

Diaz said revenue and profit during June and July soared about 25% compared to the same period in 2019.

Hadeed, who becomes chairman of the American Society of Plastic Surgeons' public education committee this month and is vice chairman of the organization's public safety committee, estimated that his colleagues throughout Los Angeles County are seeing similar results.

While Hadeed's business has slowed slightly following a mid-summer spike, he said revenue was still up 10% to 15% in August and September compared to the same period a year earlier, and he was on track for a record third quarter.

Both Hadeed and Diaz said they expect the upswing to continue.
Taking control


Surgeons and observers said they see several reasons for the surge. 

In addition to teleconferencing giving people more feedback about their appearances, remote work allows plastic surgery patients to recover in privacy and without missing work. 

"Because everybody's staying at home … nobody knows about it," said Lawton Burns, the James Joo-Jin Kim professor of health care management at the University of Pennsylvania's Wharton School of Business. "It's image management."

And those with disposable income can redirect it.  

"People are traveling very little and hardly eating out," said Debra Felgen Langer, a West Los Angeles-based clinical psychologist. "So, instead of having life experiences, many are spending on improving their homes and improving themselves." 

Although a high-quality facelift can run $75,000, Diaz said he's seeing an increase in patients from "every socioeconomic class."

Some Angelenos are willing to take out loans for makeovers by borrowing from finance companies accustomed to lending for such procedures, Diaz said.

"Historically, Los Angeles, and in particular the city of Beverly Hills, have represented luxury and the epitome and style and beauty," he said. "So, people are drawn to surgeons in this area."

About 100 of the 281 ASPS members in L.A. County practice in Beverly Hills.

But some said the longing for new looks may go deeper.

"Nobody is doing well with the uncertainty that the pandemic has immersed us in," said Mark Goulston, a West Los Angeles-based interventional psychiatrist and veteran crisis specialist who has trained FBI and police hostage negotiators. "There are few places that can't stand feeling not in control more than Los Angeles.

"The rest of the world seems to have adapted to the fact that the not-in-control zone is where the game of life is played because there are so many things in our life we're not in control of," said Goulston, who is also a coach for Fortune 500 executives and author of best-selling advice books. "It may be that the increase in plastic surgery is an effort to divert their attention and focus onto what they feel they can exercise more control over."

The Los Angeles metro area has 2.3 times as many plastic surgeons per capita as the New York City metro area, according to figures from the Census Bureau and the ASPS, which says it represents 93% of the nation's board-certified plastic surgeons.
"L.A. has always been considered an epicenter of plastic surgery," Diaz said. Dallas and Houston are also considered plastic surgery hubs. 

There is at least one cosmetic plastic surgeon for every 36,000 residents in L.A. County, according to data from ASPS and the Census Bureau.

"In other parts of the country, I don't think people care as much about looking good," said Wharton's Burns. 

Recovery time

Some of L.A.'s pandemic-fueled plastic surgery binge has been more than skin deep. 

Justine Lee is a plastic surgeon with UCLA Health who specializes in complex craniofacial and pediatric reconstructions. She works on children born without ears, for instance, and on adults undergoing facial reconstruction for gender affirmation.

Lee said she is booked six months out, compared six to eight weeks in the pre-Covid era. She attributed her crowded calendar to the pandemic-imposed cancellation of high school sports, as well as remote learning.

"Usually, for the kids, if they're in school or playing sports, we typically wait for a school break before we do surgery," Lee said. After surgery, "They have bandages. They have pain. It's not necessarily that easy to leave the house."

Typical recovery time ranges from two weeks to two months, she added.

"Now, as they're largely going to school by Zoom, they'll take a break for a day for the surgery, then go (right) back to school for the rest of their recovery," Lee said. "This is as busy as I could be, surgically."

She explained that her discipline is "a different practice" from aesthetic surgeons.
"That's not to say that aesthetic surgery doesn't function to help anybody," Lee said. Plastic surgery "in general is a quality-of-life specialty," she said, adding that all plastic surgeons share the same basic training in reconstructive surgery.

Speaking of surgery, what happened to the patient who inquired about a "turkey neck" procedure with Hadeed?

"I don't know," the Beverly Hills practitioner said. "He never came back."
For reprint and licensing requests for this article, CLICK HERE.