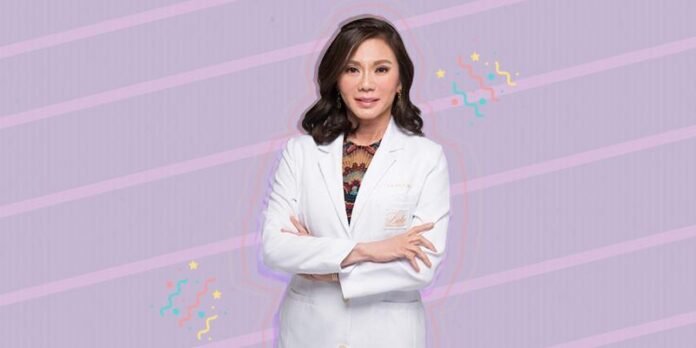 Through her practice as a dermatologist, Dr. Vicki Belo has made a big impact in many people's lives.
Just recently, Dr. Vicki has helped another woman in her transformation to gain more confidence in herself: "The Clash" Season 3 grand champion, also known as the "Power Diva," Jessica Villarubin.
"So I really related to Jessica's story because her story was that she used to be bullied at school," she shared with GMA News Online in a mix of English and Filipino during an exclusive Zoom interview.
"Lagi siyang sinasabihan na ang pangit niya (she was always told she was ugly)," she added.  
READ: Jessica Villarubin is ready for her close-up
"And that was also my experience when I was younger in school. Because I was adopted and everybody knew for some reason that I was adopted by the Belos."
Dr. Vicki narrated her own story back when she was a child and how she related with Jessica after the singer opened up to her about her own bullying experiences.
"They would always ask, 'why did your parents give you away?' And then my other classmates will answer, 'because she's pangit (ugly),' and then the other one will say, 'because she's fat,'" she said.
"Anyway, so when Jessica told me they call her pangit, … it [ticked] my heart. In fact, I got … I remembered how myself [was] like before," she added.
Vicki said hearing Jessica's story reminded her of why she put up Belo Medical Group.
"I put up Belo from a place where I want to fix my problems, my being fat and my being pimply," she said.
The celebrity doctor said as someone who was judged for her appearance, she "felt it was holding me back from being as successful or as self-confident as I could be."
"And I know Jessica, her self-consciousness about not being pretty would also hold her back with her singing," she said.
Vicki said when people felt they didn't look good, "it's always in the back of your mind when you're talking to people."
"I remember when I talk to people, I think, 'ay siguro tinitingnan nila ang pangit ng skin ko. Ang taba ko. Nakikita nila 'yung pimples ko, 'yung pus ko,'" she said.
[Maybe they see my skin, it's ugly. I'm fat. They see my pimples, my pus.]
"You know, instead of [really] being present and talking and listening to what you're saying or my communication properly, the self-consciousness affects as barrier and I can't really do as well as I could."
Vicki said facial features were a common problem for singers. "And when the camera, when you're singing, of course, it's the face that's being focused on and if you feel you're not confident, your singing will also get affected."
With Jessica, Vicki said they didn't want to change her face to the point where she would look like a totally different person.
"But you know, I really believe anybody can improve a little … and I think she's an example of what Belo always has stood for, which is that people will still look like themselves but better. Your best version," she said.
Bullied for her appearance
Vicki recalled how the pain of being bullied for her appearance as a 5-year-old child inspired her to one day become someone who transformed people into better versions of themselves.
"When I was being bullied as a kid that I'm ugly and fat and not pretty. So that stayed in my head," the doctor said.
"It was more like, 'when you're not pretty, pinamimigay ka lang. Hindi ka masyadong valuable (you're just given away. You're not that valuable),'" she said.
"So [I said], 'ay naku. I'll make everybody pretty.' That's my 5-year-old mind conclusion."
The 65-year-old celebrity doctor, who looks much younger than her age, recalled that starting at 11 years old, she had acne and oily skin and went to dermatologists "all the time."
Despite her frequent clinic visits, her facial skin did not improve, which made her even more frustrated.
She said every week, her father "would spend so much money in me going to doctors and it wasn't getting better. They just prick on my pimples, they gave me medicines," but there was no improvement.
Until one say, she told herself, "ako na lang magcu-cure ng sarili ko (I will just treat myself)."
Vicki said she set up the clinic even as she thought of the worst case scenario—not having patients.
"I study medicine, I study residency, I go through all these and I don't have patients. Because I really have no idea if I'll be successful or not," she said.
For Vicki, the hardships were still worth it if she could fix herself.
"At least naayos ko sarili ko. Mayroon pa rin akong nakuha, 'di ba? (At least I got to fix myself. I still got something out of it, right?)"
Little did she know that a lot of people had the same problem—fat, pimples, and oiliness—which she had since turned into her specialties.
"Fat, I know how to make people thin. And skin, I know how to make it nice. And it's evolved in me," she said.
Vicki said she didn't want to be just a regular dermatologist. "Gusto ko, pinaka-advanced, pinakabago (I want the most advanced, the newest)," she said.
"So I really researched, I studied very hard before opening my clinic. And then I realized, lasers are new then in 1990. It was a brand new technology. And the dermatologists embraced it as theirs," she added.
"So I went to Harvard, I studied lasers." When she got to the United States, she learned that dermatologists there were already performing surgery.
According to Vicki, at the time, the practice wasn't being done in the Philippines. Dermatologists then performed only clinical treatments for acne, psoriasis, or fungal infections like an-an (tinea versicolor). No one did liposuctions or hair transplants, she said.
After studying in the US and returning to the Philippines, Vicki said she invested her parents' money on two laser machines, which then cost $150,000 each.
Thank you, Dra. Vicki
When she began her practice, the doctor said she didn't have a lot of money for a big and posh clinic. She could afford only a "very basic" 40-sqm space.
But she said she "was so blessed" because within two weeks, she already had a lot of patients.
Vicki said it all started with GMA-7, when Asia's Songbird Regine Velasquez mentioned her on television.
She shared that the singer, who then suffered from back acne, had gone to other dermatologists who weren't able to help her.
"So she went to me and with our new medicines, I brought in so many things. Naayos namin kaagad (we were able to treat it)," said the doctor.
"Nag-thank you siya sa TV. So doon actually nag-umpisa 'yung, 'thank you, Vicki Belo' … si Regine ang nag-umpisa. Hindi ako nakaisip noon."
[She thanked me on TV. That's when the "thank you, Vicki Belo" started … Regine started it. It wasn't my idea.]
Apart from helping people attain the best versions of themselves, she also wanted to make the Belo clinic and the practice in the Philippines known all over the world for their developed services and advanced technology.
"Those are my two driving points," said Vicki. While "we haven't achieved my dream (yet) to [have really] many people from around the world come here," the dermatologist said she's happy that the Belo brand had been getting attention from all over the world.
Vicki said she had earlier realized that the world was unfair. "I'm a realist. I look at the world as it is and I also look at where I wanted to be but I don't keep insisting, 'the world should be like this.'"
While some people believed that talented people "doesn't have to do that" and should "make it without any enhancement," Vicki thought otherwise.
As someone who was bullied for her appearance in the past, she realized that "the world is unfair and good looking people really have an advantage. Whether you accept it or not, I know for sure."
She also mentioned that when she was a student at University of the Philippines, she studied how looks affected people's lives.
"I've conducted so many studies and that, you know, show that unfortunately, people judged you, their first judgement of you is because of the way you look," she said.
She recalled a study she did at UP, where she "had two girls dress exactly the same, one was sexy, tall, 5'5" and pretty, and the other one was a cum laude … pero mataba (but fat)."
She said both girls wore the same outfit and applied for a job, and the one that got it was the pretty one.
Vicki said she had heard people say Belo was about vanity, but for her that was untrue.
"I just want to really make a point. The reason [I put up] Belo is because I was so insecure. I was fat, I had pimples, I felt ugly and I was just kinda angry about it," she said.
"Because I feel bakit 'yung iba ang ganda-ganda? Hindi naman sila mabait? Sinuwerte lang sila noong pinanganak."
[Why are other people beautiful? Yet they're not kind. They just got lucky when they were born.]
Vicki said the fact that looks had become a "factor" in many aspects irked her. "You look at a person if you're going to hire them for the intelligence, for their hard work, their character, their integrity."
Same playing field
As a dermatologist, she wanted "to be able to make people who are not good-looking when they were born to be good-looking now, to give them also the same playing field as those who are good-looking."
"That was my thing. So it's never been about vanity. I was really about pantay-pantay tayong lahat. If we're all pretty, titingnan n'yo na ngayon kung matalino ako, kung hardworking ako, kung mabait ako. 'Di ba? So 'yun 'yun."
[I was really about, we should be at the same level. If we're all pretty, you will now see for yourself if I'm intelligent, hardworking, kind. Right? So that's it.]
Vicki, however, said they steered away from people who wanted to copy faces of celebrities.
"We always want realistic, we always want people to look like the best version of themselves."
According to the doctor, their clinic "provides a life coach" and they do an interview if the customers have doubts. "It has to be for their self-esteem. And it has to be that they're realistic."
Vicki said there's nothing wrong with wanting to become a better version of yourself.
"The way I look at it, it's like, color your hair, you cut your hair nice, you wear nice clothes. Why not wear something you know, like a nice nose. For me I really look at it, at the body … as an Earth suit," she said.
"'This is not who I am. This does not define who I am inside.' But it is my outfit if I wanna live on Earth. And so I just want to make it as nice as possible."
The doctor, however, also advised people not to "get attached to it," because sometimes "they go overboard and it's all about looks, then I think that's unhealthy."
Vicki said helping people stop worrying about their looks was her goal.
"When you can forget, you're not self-conscious about having bad skin, you're not self-conscious about your [nose], you're not self-conscious about being fat, then, yehey. I achieved my goal," she said.
"Because that means [it's no longer a] factor, right? You can concentrate on what's really important."
Whenever she saw her patients' reactions after treatment, for instance when their surgery takes effect, she said she felt "as happy as them."
The celebrity doctor said she had found her reason for being through her practice.
"That's really my main reason for being, [it's] just to make people happy and more confident and more comfortable in [their] body," she said.
"I know the feeling na parang, hindi ako mapakali kasi hindi ko type ang mukha ko o ang taba ko,'" she added.
[I know the feeling, it's like, I'm not comfortable because I don't like my face or I'm fat.]
"It's just an awful feeling for me. So when they're happy in their body, I know they can fly. And I know that it will help them fly."
Vicki said she thought cosmetic surgery was "part of women empowerment."
Don't judge
"You shouldn't be afraid to be judged because basically, cosmetic surgery is something you do for yourself. It's something that you want to fix, that's something that you want to make you feel better. And I don't know [why] other people should judge," she said.
For people who judge those who undergo cosmetic surgery, the doctor had a message.
"I respect and admire the fact that you feel you don't need anything, and I applaud you and wish that everybody was like you, but have compassion for people who have suffered," she said.
"If you're born with flawless and poreless skin, good for you."
Vicki said they shouldn't judge people "who want to do something about it."
"We all just trying to be happy and it's not hurting anybody. So [it's like] we respect [you], you respect us as well."
She also said it saddened her that "people talk about empowerment all the time" but "I feel that it's actually women who put down other women."
Women should instead "encourage one another to be the best that we can be, whether physical, success-wise, spiritual-wise."
She said it would be better if people supported each other.
"It's hard to lift the Philippines when it's just one or two or 10 people or a hundred people who are successful. Dapat lahat tayo umakyat sabay-sabay (we should go up together). So let's just get rid of the crab mentality."
Vicki said when she started 30 years ago in this industry, cosmetic and plastic surgery "really [weren't] accepted."
"People would hide everything or they'll hide something … like noses were always something that people wouldn't admit to."
But now, according to Vicki, the practice has become normal to more people and it has broken free from its taboo image.
"Now, they're very proud on TikTok, you can see how many people are writing about their nose journey," she said. "So yeah, I think it's very healthy that they're doing that."
She said the "younger kids, they don't judge one another for that. It's more the older generation that remembers what it was like when it was not so accepted yet."
Vicki said many of their patients were proud to have something done in their body. "I think it shows that, 'hey, I'm in control of my life.'"
"They are so proud … they even tell me, 'can you tattoo Belo on my whatever? On my tummy …' It's a joke but it's something … I mean it's getting a lot there."
Vicki also noted some Filipinos' toxic way of greeting each other.
"You know [in] the Philippines, … [in] our greeting alone you can see what kind of people we are," she said.
"Like, 'uy, ang taba mo ngayon, a. O, ba't ganu'n ang balat mo ngayon? (hey, you've gotten fatter. Or, why is your skin like that?)' … That's not a kind of greeting we should be doing," she added.
"We should say, 'how are you? Are you looking good?' But people [always comment on] the way you dress, it's also [a] comment about some part of you or some outfit you're wearing or some feature of yours."
Do something about it
According to Vicki, those who are confident with themselves don't need to do anything, but those who are not can "do something about it positively."
"This is for you. It's none of anybody else's business. You're not hurting anyone, so you know, don't feel guilty," she said.
"Don't feel self-conscious because in the end, if you look good and you feel comfortable, then you will perform a lot better in life. You'll be happier," she added.
Meanwhile, to those who have decided to undergo cosmetic surgery, Vicki advised them to put aside a "beauty allowance" every month.
"I would put 10% of maybe what I make in a bank account that's my beauty goals account," she said.
"Remember the earlier you would do it, the more you can enjoy it."
Vicki recalled that when she started out as an aerobic instructor, all she wanted was to make herself look better.
"Me, I just wanted to make myself look better and then I figured out a way. From the very beginning, you could see my trajectory. I was an aerobic instructor for 13 years," she said.
"That's part of trying to be thin. That's part of me trying to make myself look good. Of course, when I found liposuction, napakadali pala nito (it was really easy)," she added.
But for 13 years, she said, she taught aerobics every day because she wanted to work out and having a class was the only way she could force herself to do so.
Vicki said she didn't cling to her achievements because she always wanted to improve herself.
"It doesn't stop. I'm always looking for trying to improve myself. [I'm not like], 'uy, big time na ako (I'm big time). I'm successful.'"
The celebrity doctor said she had never been in that position and that made her "hungry" for more.
"I don't think I want to dwell on my past successes because it might affect my future successes," said Vicki.
"You always have to have passion and hunger. Entrepreneurs, it's what they do. And don't ever make making money your goal because that's a really lousy goal. We should really make [our goal focused on] how you can help people." – RC, GMA News