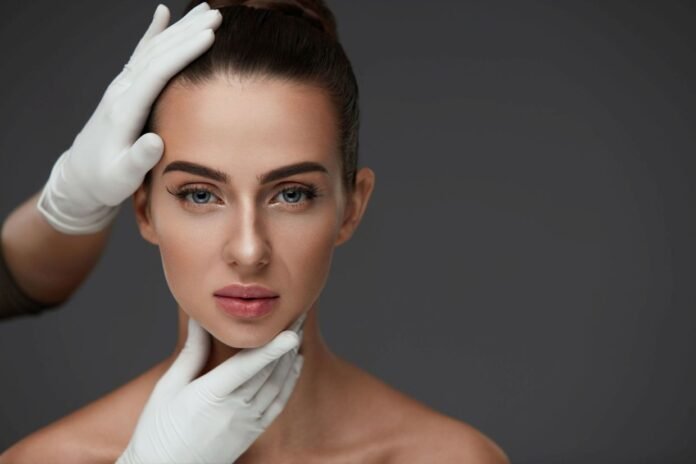 The treatments are risky and mostly unnecessary. The doctors can be dubious, and the results typically disappointing. At least that's according to the cliche.
Cosmetic surgery often gets a bad rap, with discussion confined to celebrity surgery gone wrong, young people wanting to emulate their selfie filters or women dying for the dream of a "Brazilian butt".
But attitudes towards plastic surgery are beginning to change in the pandemic, with growing numbers of people taking the crisis as an opportunity to "get work done".
"The nature of the demand for aesthetic treatments has changed in the coronavirus crisis," says specialist Dennis Von Heimburg, long-time president of the Association of German Aesthetic Plastic Surgeons.
Lutz Kleinschmidt, board member at the German Society for Aesthetic Plastic Surgery, agrees: "The Covid-19 pandemic has made social occasions rarer, but one's own reflection has remained."
With masks now compulsory, many are paying more attention to their eye areas, for example. Videoconferences – many over Zoom – also lead to many people looking at themselves longer and being looked at more.
Lip correction with fillers is also more in demand, experts say, in part because operations on the mouth can be hidden under masks.
All in all, there is a new body consciousness during the pandemic, says doctor Murat Dagdelen. Interest in liposuction is increasing, he notes, not least due to weight gain while working from home.
Others are using the pandemic as an opportunity for self-optimisation.
"Patients have more time to deal with their appearance," the Germany-based doctor says.
Photo: 123rf
Possibilities abound when it comes to removing and reducing fatty tissue. Liposuction is available for a few thousand euros; then there is laser-assisted liposuction, cryolipolysis (cold fat cell treatment) or lipolysis injection (fat removal injection with phosphatidylcholine extracted from soy).
And during the pandemic, patients don't have to worry about missing social events while recovering, or concealing bruises, swelling or redness, common after today's mostly minimally invasive surgeries.
According to studies, a majority of patients still conceal cosmetic surgery from colleagues and friends.
According to the German Society For Aesthetic Plastic Surgery, the demand of certain professional groups has increased in the pandemic.
Andrea Fornoff, head of a plastic surgery clinic in Germany, says more teachers and people working in admin jobs, for example, have made appointments with her.
"In other words, people who have a secure income. But there is also the broad class of people who can't afford it now, such as hairdressers or employees in the catering industry," she says.
Cosmetic surgery has to be financially and logistically feasible, says Fornoff. "There are more and more people who work mainly or frequently at home."
Many patients are now using money left over from not being able to travel for cosmetic surgery.
There is no central German register for cosmetic surgery. But hundreds of thousands of people are estimated to get work done every year.
According to a non-representative survey of members of the German Society For Aesthetic Plastic Surgery, the top five aesthetic treatments last year were wrinkle injections and Botox treatments.
Breast augmentation, upper eyelid lift and liposuction follow at a distance.
The International Society For Aesthetic Plastic Surgery, based in the US state of New Hampshire, says Germany is one of the countries where the most cosmetic surgery is conducted – and the trend is rising.
The top 10 countries are currently the US, Brazil, Japan, Mexico, Italy, Germany, Turkey, France, India and Russia.
Women still dominate the market. Only about 10 to 15% of treatments are performed on men.
Fornoff has observed that men decide more quickly than women on getting work done: "When men come in for a consultation, they've often already gone through the decision-making process and decided to go through with it."
"Women are often more wait-and-see, they tend to hold back and wait until they feel they have no other obligations and can treat themselves," Fornoff adds.
And what better time than a pandemic? – dpa