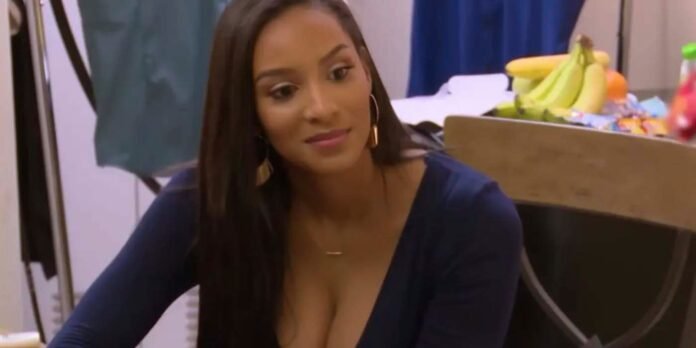 Chantel Jimeno, née Everett, has faced plenty of plastic surgery accusations. The reality star appeared to put rumors to rest with vacation pictures.
Chantel Jimeno, née Everett, has made a lot of headlines since making her reality television debut, including speculation about plastic surgery. The Family Chantel star has hopefully put the rumors to rest with full-body photos she posted on her Instagram during her 30th birthday getaway.
Chantel rose to reality star fame after appearing alongside now-husband Pedro Jimeno on season 4 of 90 Day Fiancé. The Atlanta-based beauty then went on to star in the first two seasons of the TLC spin-off show The Family Chantel. Though Chantel had dealt with drama from her intrusive parents, the 30-year-old has also faced scrutiny about her appearance. The social media star has admitted to Botox injections on the hit show, but she has steadily denied plastic surgery rumors. Though the slim beauty has a curvy figure, Chantel maintains that her physique is all-natural. Chantel, who is in Cancun celebrating her birthday with her female friends, recently shared several images of herself in bikinis and other revealing attire that appears to confirm her figure is indeed natural.
Continue scrolling to keep reading
Click the button below to start this article in quick view.
Related: The Family Chantel: Chantel Wows In Dramatic Glam Instagram Look
Chantel has denied breast enhancement rumors in the past, stating that she has always had a large chest. The star has shared photos of herself at a younger age to back up her claims that she is naturally busty. During her girls' trip, Chantel has shared several videos and photos of herself in bikinis and other low-cut attire. While Chantel certainly has an enviable figure, there are no telltale signs of implants on the American beauty. The shape of her breasts appears natural, just as they did in the throwback photos Chantel has shared in the past. Chantel shared several photos on her Instagram profile on February 2 to celebrate her big day. One photo revealed the wife of Pedro in a matching floral crop top and skirt. "Find me under the palms," Chantel captioned the stunning picture.
Fans were quick to note in the comments that Chantel's body appeared natural and beautiful. "We need more natural beauties like you on IG," one fan commented with a heart. Many people praised Chantel's stunning look, wished her a happy birthday, and hoped that the reality star enjoyed her trip to Cancun. "Perfect body! Body goals!!!!" one enthusiastic fan commented. Though some followers also criticized the nurse for traveling during a pandemic, fans appeared in unison about Chantel's stunning figure. The Atlanta beauty, who left Pedro behind during the girls' only trip, appears to be thoroughly enjoying herself with her squad of female friends during the luxurious getaway.
Chantel has worked hard to have her body. She had recently photographed herself enjoying workouts in the gym with her husband. Pedro, who gained weight after moving to the United States from the Dominican Republic, has been on a well-documented fitness kick that has whipped his body into shape. Hopefully, Chantel's recent pictures will have fans stop accusing her of procedures that she has staunchly denied.
Next: The Family Chantel: Pedro Jimeno Wishes Wife Chantel A Happy Birthday
Source: Chantel Everett
90 Day Fiancé: Skinny Angela Deem Looks Half Her Age In New Stunning Pic
About The Author