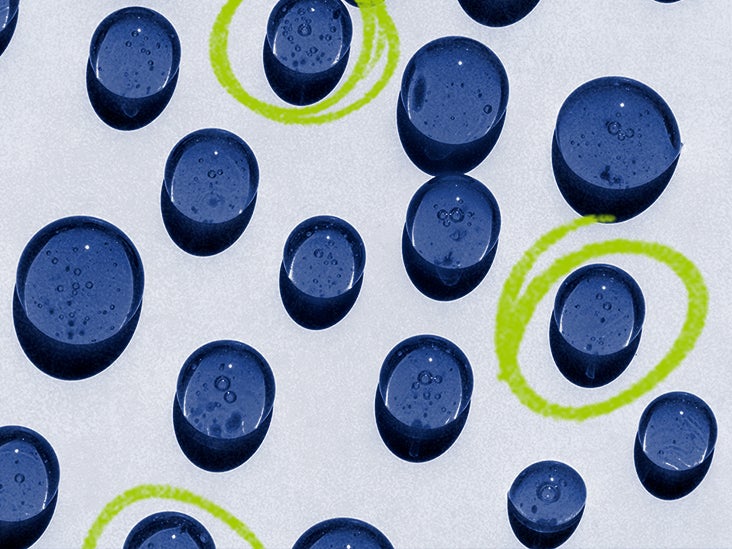 Mineral oil is not bad for the skin. It is a heavily processed petroleum product that is present in a variety of skin care products. It can help to soothe and moisturize the skin and can also help to heal minor wounds.
Mineral oil is an odorless, clear liquid derived from petroleum. The liquid is a highly purified and processed petroleum product.
By the time it is used in consumer products, it is an inert and stable compound. In other words, it is safe for use around foods, in cosmetics, and in other personal care products.
This article will discuss whether mineral oil is safe and beneficial for the skin.
According to a 2019 overview, people have used mineral oil in cosmetic products for decades, and it has a long history of being safe to use.
The concentration of mineral oils in cosmetics can range from 1–99%, and they are present in:
skin creams
ointments
lotions
sunscreens
lip care products
hair gels
bath oils
The mineral oils in cosmetics are typically stable and well tolerated when applied to the skin. However, if a person develops any reaction, they should stop using the product and contact their doctor if symptoms persist.
The amount of mineral oils used in lip care products is not high enough to cause concern if ingested. They usually contain less than 10% of the acceptable daily intake value.
When highly refined, mineral oils do not cause any adverse effects. However, if the petroleum is not highly refined, it may include polycyclic aromatic hydrocarbons (PAHs), which are carcinogenic. This means it may increase the risk of cancer.
A 2019 article notes that in Europe, companies are only allowed to use mineral oils in cosmetics if they comply with specific purity regulations regarding PAHs. These regulations and safety requirements ensure that the mineral oils go through the refining process to remove any substances that may cause cancer and reduce the presence of PAHs.
Products containing these mineral oils do not penetrate the skin, and as a result, do not cause adverse changes to the skin or have any effect on the internal organs.
However, according to the Campaign for Safe Cosmetics, the mineral oils used in the United States are not as refined as they are in Europe.
As a result, people should avoid buying products that contain mineral oil unless the label states that it is fully refined as white petrolatum or white mineral oil. White mineral oil is highly purified and meets specifications to ensure that it is safe to use in over-the-counter products.
The 2019 article notes that when applied to the skin, mineral oil has protective and lubricating properties. It can help to soften, cleanse, and moisturize the skin.
Mineral oil is an example of an occlusive moisturizer. These form a barrier on the skin, which helps prevent water evaporation and reduces water loss through the skin by 99%.
Petroleum jelly, or Vaseline, is a common product made of a blend of mineral oils and waxes.
According to the American Academy of Dermatology Association (AAD), petroleum jelly can help to:
Relieve dry skin: A person can apply petroleum jelly to the skin, including the lips and eyelids, to moisturize and protect the skin.
Prevent chafing: A person can apply petroleum jelly to areas of the skin that rub together, such as the thighs or feet.
Treat diaper rash: A person can apply petroleum jelly to the rash each time they change the diaper. This should help the rash resolve after 3–4 days.
Help heal injured skin: Petroleum jelly can help keep small wounds moist, such as scratches, scrapes, and cuts. This can aid in healing.
Rehydrate the nails: To help reduce brittle and chipped nails, a person can apply petroleum jelly to their nails and cuticles.
Many commercially available skin protectants contain mineral oil. A person might find it easier to use a product that contains mineral oil instead of using pure mineral oil.
When using a product that contains mineral oil, people should ensure that they follow the instructions on the packaging.
Before using pure mineral oil, a person should talk with a dermatologist to ensure that it is safe for them to do so. When using pure mineral oil, a person should look for products sold in their local pharmacy.
A person can apply a small amount of mineral oil to the skin as they would any other skin care product.
A person can find pure mineral oil or products containing mineral oils and waxes at a local pharmacy and online.
When buying products containing mineral oil, the labels may include the following terms, which are mineral oil-based ingredients:
paraffin
paraffinum liquidum
isoparaffin
synthetic wax
microcystalline wax
hydrogenated microcrystaline wax
petrolatum
ceresin
ozokerite
cera microcrystalline
The following sections help provide answers to commonly asked questions about mineral oil.
Does mineral oil cause premature aging?
Evidence suggests mineral oil helps promote overall skin health, including providing moisture.
Moisturizing the skin can help reduce the appearance of wrinkles and other signs of aging.
Does mineral oil dry out the skin?
Mineral oil does not dry out the skin. A person can use mineral oil to help moisturize their skin safely.
Studies have shown that it can help provide additional protection from losing moisture, making it a better moisturizer compared with some other choices.
Does mineral oil cause acne?
According to the AAD, a person should avoid applying petroleum jelly on the face if they are prone to acne. This is because it can lead to breakouts.
It can also lead to perioral dermatitis, which is a rash around the mouth. This is not acne, though it can present with small acne-like bumps.
Mineral oil is a safe ingredient present in many cosmetic products. It can help soothe and protect the skin and act as a moisturizer.
It is also nonallergenic, and should not cause any adverse effects on the skin.
To find products containing mineral oil, a person can look online or in their local drugstore.