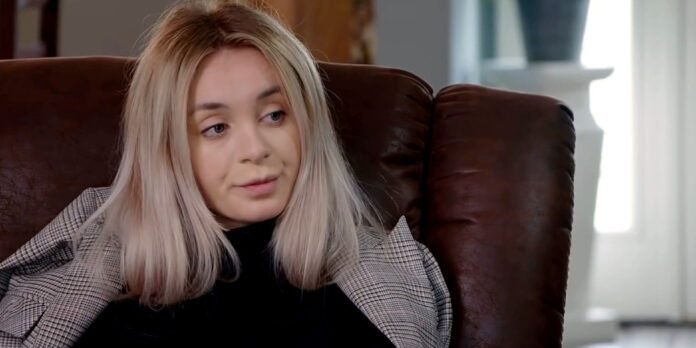 90 Day Fiancé fans ask for Yara Zaya's surgeon's number after finding a clip of her Ukrainian dating show from six years ago, where she has dark hair.
The debate over whether 90 Day Fiancé star Yara Zaya has got plastic surgery done has been going on amongst fans since her season 8 debut. The Ukrainian fashionista has since then denied getting any work done multiple times on Instagram. However, it was after seeing Yara in an old reality show from back home when TLC viewers felt she looked completely unrecognizable. And with a new photo of Yara from a different show coming to light where she sports dark brown hair and a different face altogether, 90 Day Fiancé fans are doubly sure of her having gone under the knife.
It's not that uncommon for 90 Day Fiancé stars to alter their appearances after they get their share of reality TV fame – just take Larissa Lima or Anfisa Nava for example. Then there's Darcey Silva, who surprises viewers by flaunting a new makeover with every spin-off that she shows in. But the case was different for Yara Zaya who looked nothing like herself in her previous TV stints, even though Jovi's ladylove now claims that it's all thanks to makeup. Although Yara did finally admit to getting lip fillers four years ago, the younger Yara from her 2013 show Fashion to the People is where fans got the idea of her getting a nose job. But it turns out 90 Day Fiancé celeb Yara then starred in a different show called Love Online in which she looked all the more different.
Continue scrolling to keep reading
Click the button below to start this article in quick view.
Related: 90 Day Fiancé: Fans Are Comparing Jovi's Yara To Villain Draco Malfoy
A Reddit user shared a screengrab from the 2014 show with 90 Day Fiancé newbie Yara with dark hair and looking nothing like she does when she appears on TLC with Jovi. The show had apparently been another one focusing on dating where a person from Ukraine meets a foreigner whom they'd been speaking with online for the first time. In her episode, Yara flies to Barcelona to meet her boyfriend but then one can apparently see her smoking, drinking whiskey, and also hooking up with the guy's friend. However, Yara's boyfriend breaks up with her after commenting on her weird body odor, and how he'd found her humorous while chatting, but soon realized her jokes came from the Internet.
But apart from the strange storyline, it's Yara's face that has left 90 Day Fiancé fans dumbstruck, with the post seeing comments such as, "Whoa. That surgeon is a damn artist," "This is not the same girl on the show" and "HOW is this her.." One fan comments that Yara's "new nose did her WONDERS," while another one has observed, "I can't believe that's the same girl. I mean I can but wow. That must have cost a LOT." Another TLC viewer tries to guess if Yara has "got her forehead done or something… eyelift, nose job, jaw and chin is done."
But apart from the alleged work that 90 Day Fiancé fans think that Yara has gotten done, they also think that make-up also does "a lot of difference," with her having gotten better at doing it, "especially the eyebrows." Whatever the case may be, this does look like another 90 Day Fiancé glow-up just like Yara's co-star from season 8 Zied Hakimi is being praised for. Considering Yara has reinvented her look with perhaps every reality show she's been on, wonder what she may look like if she and Jovi land up another 90 Day Fiancé spin-off.
Next: 90 Day Fiancé: The Real Reason Why Yara Tries Not To Smile In Photos
Source: Reddit
90 Day Fiancé: Rebecca's Zied Flaunts New Look & Gives Away Spoiler
About The Author