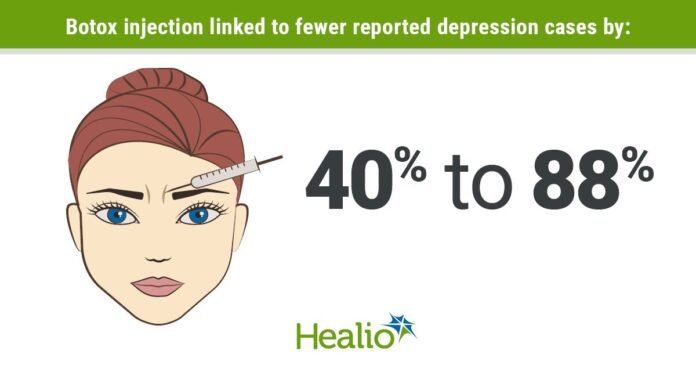 August 10, 2020
2 min read

Source/Disclosures


Disclosures:
One study author reports consulting for Allergan pharmaceuticals. The other authors report no relevant financial disclosures.
We were unable to process your request. Please try again later. If you continue to have this issue please contact customerservice@slackinc.com.
Individuals who received Botox injections were significantly less likely to report depression vs. those who received different treatments, according to study results published in Scientific Reports.
"We hoped to find if a local injection of Botulinum toxin that was believed to have only local 'relaxing' effect on neuromuscular junctions may have a global neurological or even a beneficial psychiatric effect," Ruben Abagyan, PhD, professor of pharmacy at University of California San Diego Skaggs School of Pharmacy and Pharmaceutical Sciences, told Healio Psychiatry. "We also wanted to find out if that effect, in particular alleviation of depression, depends on the site of injection, which varies a lot, from limbs to forehead."
Results of prior studies in which Abagyan and colleagues used an Inverse-Frequency Analysis of postmarketing pharmacovigilance cases reported to the FDA through MedWatch suggested use of ketamine, minocycline, NSAIDS and Botox was associated with significantly lower depression rates. At the time of these studies, several clinical trials and case studies indicated the possible efficacy of Botox for treating depression.
Ruben Abagyan

In the current study, Abagyan and colleagues aimed to verify Botox's antidepressant effect by analyzing more than 40,000 Botox treatment reports among 13 million postmarketing safety reports in the FDA Adverse Event Reporting System (FAERS). Specifically, they searched the database for absence of depression when an individual took Botox. The reports evaluated Botox treatment for eight different injection sites, including neck, forehead, bladder and limbs. The investigators used a mathematical algorithm to search for statistically significant differences between Botox users and individuals who received different treatments for identical conditions.
Results showed that individuals who were treated with Botox for six of the eight conditions and injection sites reported depression 40% to 88% less often than those who received other treatments.
According to Abagyan, these findings have several implications. First, if a patient receives a Botox injection for a condition related to a local muscle dysfunction, such as sweaty armpit or palms, involuntary blinking, unwanted wrinkles, spasticity or spasm of leg muscles, and the patient is depressed, the procedure may provide additional benefit. Further, if researchers are to develop a Botox injection-based treatment specifically for depression, the administration mode and the optimal site of injection are unknown and need further study to define the most safe, efficacious and comfortable treatment.
Lastly, the current hypothesis of the mechanism of action of Botox being restricted to only a local muscle relaxation near the site of injection is likely to be inaccurate and needs to be extended to explain its psychiatric effects, according to Abagyan.
"Let us not forget that Botox is a toxin and the dose and mode administration must be adjusted very carefully to prevent dangerous side effects," Abagyan told Healio Psychiatry. "Any medical treatment needs to be evaluated and tested properly."