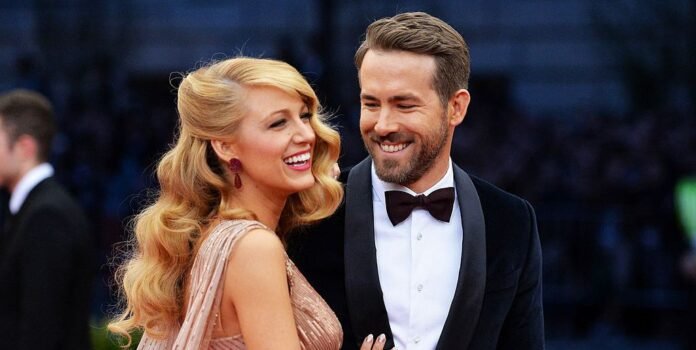 Another day, another adorable instance of Blake Lively and Ryan Reynolds trolling each other.
Yesterday, the Gossip Girl star jokingly made fun of her husband as he stood in the stands in Wrexham, Wales, cheering on the Wrexham soccer club—which he co-owns with fellow actor Rob McElhenney—as they played against Sheffield United.
Lively, who is currently pregnant with the pair's fourth child, watched the game from home and shared a clip on her Instagram Story of Reynolds looking anxious while watching the match.
"I bought ESPN+ today. Just to watch my husband experience crippling anxiety live. Worth it," the actress wrote over the video.
The Deadpool star was seen cheering enthusiastically for his team throughout the goal-filled match, which ended in a 3–3 tie.
After hilariously trolling Reynolds, Lively showed off her contribution to the soccer match: a field ad for Betty Buzz, her clean mixer brand named after her three-year-old daughter.
Reynolds and Lively always keep things interesting with their social media trolling. In December, Lively left a funny comment on one of her husband's holiday Instagram posts in which he cropped off her feet.
"My. Shoes 🙄," she wrote.
In response, Reynolds reposted the full photo to his Instagram Story, revealing his wife's sparkling silver sneakers. He accompanied the post with a note.
"I cropped my wife's shoes out in the photo I posted. It's inexcusable and I'm sorry to anyone I've hurt with this callous lack of fortitude. Heading to the hospital to have my brain weighed," he wrote.
You Might Also Like