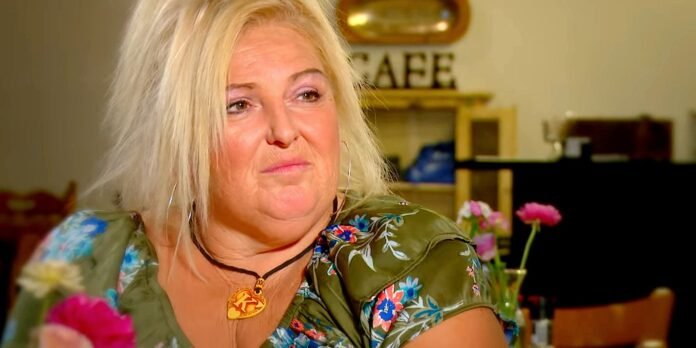 Angela apparently had bariatric surgery to achieve massive weight loss. She also paid to have Botox and fillers. Check out the cost breakdown.
Many 90 Day Fiance viewers are amazed by how stunning Angela Deem is looking with a trim figure. She was not happy with being overweight and told her fans she would have weight loss surgery to shed the nasty extra pounds. It appears that Michael Ilesanmi's wife is done with her surgery because she is now showing off a slimmer figure and younger-looking face. So, let's dive deep into how much she potentially spent to achieve his jaw-dropping look.
On the 90 Day Fiance: Happily Ever After? season 5 Tell All, Angela spilled the beans on her relationship with her husband. Angela wants to have a baby for the sake of her husband's wishes, but she isn't fertile. And it's becoming pretty hard for them to find someone who can donate their eggs to Angela. America's favorite "meemaw" also shared how unhappy she was about gaining 20 pounds amid the coronavirus pandemic when people were ordered to stay home. The 55-year-old TLC star Angela wanted to get rid of the extra fat because obesity also increases the risk of many health problems. Although she didn't specify the kind of surgery she was getting, many fans would be aware that bariatric surgery is apparently the most common and safest method to lose weight.
Continue scrolling to keep reading
Click the button below to start this article in quick view.
Related: 90 Day Fiancé: Larissa Lima Shared A Cryptic Note About Her Immigration
Bariatric surgery works well for overweight people and comes with ample other health benefits like the relief of depression, improved fertility, and joint pain relief. This procedure may have made changes to Angela's digestive system to help her lose weight. But the patients can't see the results as soon as they are done with their surgery. It is a gradual process, and it may take up to six months to lose 30 to 50 percent of excess weight. It appears that Angela had the weight-loss procedure just after the 90 Day Fiance: Happily Ever After? Tell All episodes were filmed because she is now showing the results.
Bariatric surgery can be done within 2-3 hours, and it requires a hospital stay for two to three days. To fully recover from the surgery, it can take about two weeks. Although the surgery is quick, Angela's weight loss expenses could be around $15,497 on average in Georgia via New Choice Health.
Apart from the weight loss expenses, Angela also paid for Botox treatment to look younger, have smooth skin, and get rid of her wrinkles. She has reportedly spent $3,000 on botox and fillers via TV Shows Ace. So, the former 90 Day Fiance: Happily Ever After? star Angela has potentially spent $18,497 to achieve her youthful and slimmer look. Let's make it easy and round it up to $19,000.
Next: 90 Day Fiance: Angela Deem's Mini-Me Shows Off Her Skills on IG
Source: New Choice Health, TV Shows Ace, Angela Deem
90 Day Bares All: Ep. 1 Recap Of Brittany Banks, Yazan Abu, Brandon Gibbs, and Tarik Meyer
About The Author