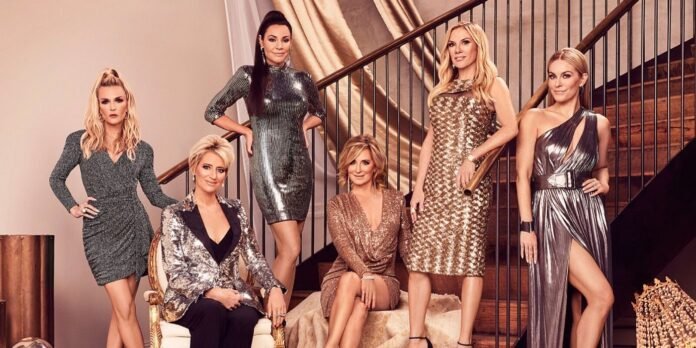 Every plastic surgery procedure the Real Housewives of New York have admitted to – and some procedures that are still up for speculation.
From messy divorces to dramatic cast departures, the Real Housewives of New York  have undergone a lot of changes in their time on the air. Who could guess, for instance, that Luann de Lesseps would go from a Countess who wrote a book on etiquette to a cabaret singer with a messy personal life? Or that the once rock solid friendship between Bethenny Frankel and Carole Radziwill would fall apart so drastically?
For some viewers, the reality TV stars' most noticeable changes are to their looks. Especially as some of the longtime cast members appear to be aging backwards. While a number of the Big Apple ladies have been open about their plastic surgery procedures, others prefer to play it coy. But that hasn't stopped the public from speculating whether or not the Bravo stars had more cosmetic work done than they may let on.
Continue scrolling to keep reading
Click the button below to start this article in quick view.
Related: RHONY: What We Know About Luann de Lesseps' Shocking New Tattoo
Leah McSweeney
Leah earned a lot of attention and headlines after her debut in season 12. The 38-year-old held nothing back, injecting the long-running series with some much needed new energy. That brutally honest attitude is part of what made her an instant fan favorite. The Happy Place founder has also been incredibly open about her cosmetic enhancements, including Botox and lip fillers. In September, the mom of daughter Kiki announced via Instagram stories that she got a rhinoplasty and septoplasty. True to form, the outspoken Housewife said she would never lie about getting work done, or pretend it was makeup, because "that's f-cking weird". The designer even showed the ugly side, displaying the post-surgery bruising.
Most recently, the Married to the Mob CEO revealed she followed the nose job by getting breast implants. She joked in an Instagram caption "all I can wonder is how the f the kardashians find the time to recover from all their work". RHONY viewers will be looking forward to her enhanced appearance – and more of that blunt, unapologetic personality – when the breakout reality star returns for season 13.
Related: RHONY: Andy Cohen Plays Matchmaker For 'Pirate' Tomas and Leah McSweeney  
Ramona Singer
When Heather Thomson first pointed out her co-star's larger bust in a season 7 episode, Ramona denied going under the knife and claimed it was just from working out. But later, she admitted to having a breast augmentation to boost her confidence after the messy divorce from ex-husband Mario. The former wife of a cosmetic dermatologist also admitted to getting Botox injections in her forehead and the sides of her eyes. And she's undergone laser treatments to get rid of cellulite on the legs.
The mom of one owned up to getting an eyelift, but has not confirmed the assumptions that she had a facelift. Departing Housewife Dorinda Medley accused her of getting a bad one during the season 12 reunion. Bethenny Frankel also called out Ramona lying about how much work she's had done. On her podcast Just B, the former co-star said, "Ramona, she's like Death Becomes Her, she's gonna be 95 and she's gonna be in the goddamn box saying, 'It's just Ramona's skincare.' It's like, the jig is up!"
Related: The Real Housewives of New York: 10 Things That Ramona Will Never Live Down 
Bethenny Frankel
In that same Just B podcast episode, the former talk show host spoke of her experience getting breast implants in her 30s. Unsatisfied with the results, she later had those implants removed and got a breast lift. Bethenny often emphasizes the importance of being honest about plastic surgery. However, longtime viewers suspect she's had more work done than she lets on. The SkinnyGirl founder's jawline is noticeably different, which she chalked up to getting Botox injections to treat jaw issues. Considering the chef's face shape has completely changed, there's been speculation she actually did something more invasive. Some have suggested a chin implant or maxillofacial surgery. Others wonder if her transformed jaw really is just from Botox, but she had fillers or implants in her cheeks.
Sonja Morgan
In her debut season, Sonja often spoke of plans to have liposuction for her stomach, to get rid of the small "pooch". When questioned about it during the reunion, she memorably replied, "Well, I am very vain." The Sonja by Sonja Morgan designer hasn't slowed down over the years, and remains unflinchingly honest. The divorcee got a neck lift and lower facelift in July, after wrapping season 12 and before filming the socially distanced reunion. The procedure was estimated to cost a whopping $75,000. She's also received Botox injections and fillers, as well as a "liquid nose job." This non-surgical nose job, which a number of reality stars have tried, uses filler to change the shape instead of going under the knife. It typically lasts for one to two years.
Related: Real Housewives: Where To Buy Clothes From The Shows & Where Stars Sell Items 
Carole Radziwill
After posting an Instagram photo in 2019, the writer's followers took to the comment section and theorized why she looked so different. Some claimed it was just a result of darker eyebrows and a different hairstyle. Others began asking if the journalist had Botox, fillers, or a facelift. Carole set the record straight by replying to one of the comments, as she joked her youthful appearance was due to "not being on RHONY."
Kristen Taekman
Kristen, who was on the Bravo series for two seasons, showed off her breast augmentation in 2014. The model jokingly called the procedure a ninth anniversary present from her husband Josh. A year later, the fashion blogger's marriage made headlines due to Josh's association with the website Ashley Madison. Despite the scandal, they are still married today. 
Related: RHONY: Show Alum Carole Radziwill Shares Her Beauty Secrets 
Jill Zarin
Viewers were stunned in 2011 when OG New York Housewife Jill appeared to have a much different face. Bethenny's former BFF denied going under the knife, and claimed it was from a "liquid facelift." She opened up about it to People, as well as other small tweaks that helped her look younger. But Ally's mom doesn't claim to be completely surgery free, as she got a breast reduction in the past.
Plastic surgery is a recurring point of discussion amongst both stars and fans of the Real Housewives of New York. Viewers will have to see if Leah inspires others to be honest, or if Ramona continues to deny the extent of her work. Season 13, which features the first Black cast member Eboni K. Williams and the return of Heather Thomson, is already in production.
Next: Real Housewives Of Atlanta: All The Plastic Surgery The Cast Had Done 
Source: Leah McSweeney Instagram, Carole Radziwill Instagram, People
90 Day Fiancé: Rebecca's Zied Flaunts New Look & Gives Away Spoiler