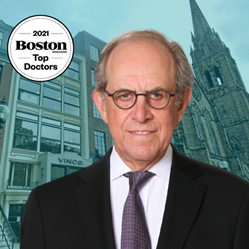 BOSTON (PRWEB)
February 23, 2021
Leonard Miller, MD, FACS, FRCS, founder of the Boston Center for Facial Rejuvenation, has been honored with the prestigious "Top Doctor" distinction by Boston Magazine for 2021. Dr. Miller earned this honor for his skill and dedication in the field of plastic surgery.

Each year, Boston Magazine selects the best of the best in different medical specialties to be featured as Top Doctors. These physicians are selected by their peers and represent the pinnacle of medical excellence in the Boston area, a region known for its top-notch providers. – Dr. Miller is honored to be listed among his distinguished peers in Plastic Surgery and other specialties.
For over 25 years, Dr. Miller has been serving patients in New England with a variety of cosmetic needs. He is board-certified and sought out by patients from all over the country for his skill, experience, and artistry. Over the years, he has been a pioneer in aesthetic medicine, bringing new techniques to the United States and creating his own unique treatment style. Dr. Miller was the first surgeon to introduce microneedling in the US, an extremely popular skin rejuvenation technique offering great results with little to no downtime.
Dr. Miller continues to innovate, even as he runs popular aesthetic practices in both Boston and Brookline, participating in clinical trials and working to develop new products and technologies. Dr. Miller is the clinical founder of the ThermiAesthetics Skin Rejuvenation System, which works to reduce the need for invasive surgery to remove stubborn fat and tighten the skin. He is dedicated to research and education, helping fellow surgeons hone their techniques as a faculty member at Harvard Medical School.
As the founder of the Boston Center for Facial Rejuvenation, Dr. Miller insists on the highest standard of care for patients. He performs complex procedures, offering patients incredible results with both surgical and non-surgical techniques. He has full privileges at several acclaimed Boston-area hospitals, including Beth Israel Deaconess Hospital. Every patient of his can look forward to a customized treatment plan and natural-looking results.
At the Boston Center for Facial Rejuvenation, Dr. Miller and his colleagues provide unparalleled safety and results for patients. They offer a welcoming and comfortable environment, peace of mind, and a wide variety of effective procedures from which to choose. Some options include natural facelift procedures, eyelid surgery, laser resurfacing, microneedling, dermal fillers, and Botox. Dr. Miller works with two other renowned and specialty-trained physicians to offer even more procedures for the face and body ranging from breast surgery to skin treatments.

Share article on social media or email: