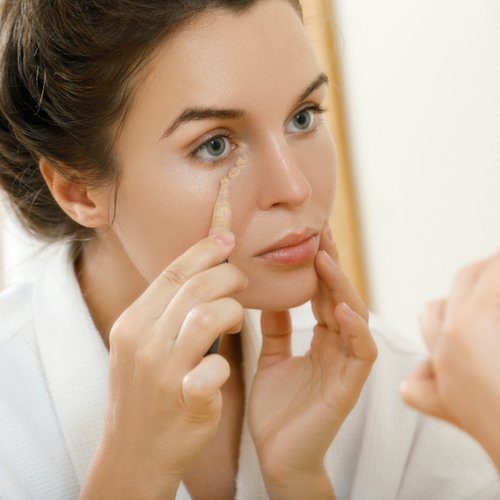 Regardless of if you're a beauty guru, concealer is a staple in nearly everyone's makeup routine and for good reason. It's difficult to avoid the harsh reality that as you grow older, your face will naturally begin to show the struggles of your day written plainly across your complexion. Dark circles can come from a number of sources, whether it be a sleepless night or anxiety over the impending demise of the world as we know it. Regardless of the cause, there exists the perfect concealer to not only hide the deep shadows which can age your face instantly, but also illuminate your face, making you appear more awake. 
If you can't quite afford Botox but would love a natural face lift, these are the four best concealers that will do the trick without shelling out the big bucks. What more could you ask for!
The olive oil that could increase your lifespan
Kosas Revealer Concealer ($28)
If you're in the market for a concealer that doubles as an under eye cream, then this is the product for you. Formulated with caffeine and hyaluronic acid to brighten and plump the skin, your under eye bags won't stand a chance against a concealer that both hides and treats your skincare struggles. With 28 shades to choose from, there's no one that won't benefit from this product, particularly for under eye concerns.
Maybelline Instant Age Rewind Eraser Dark Circles ($12.49)
A good drugstore option is always mandatory for a makeup roundup, and the Maybelline Instant Age Rewind is the MVP for dark circles. This top rated concealer has earned its spot as a beauty favorite, masking under eye bags to lift your face and enhance your youthful appearance without botox. This formula also contains ingredients to fight puffiness and dark shadows, making it another multitasking wonder.
Ilia Skin Serum Concealer ($30)
A Sephora fan favorite, this concealer is perfect for mature skin that has begun to show signs of aging. Working to hide dark circles while fighting against the root cause with ingredients such as vitamin C and albizia julibrissin bark extract, the Ilia Skin Serum Concealer is ideal for color correcting and brightening without looking cakey or adding to your skin texture.
It Cosmetics Bye Bye Under Eye Anti-Aging Waterproof Concealer ($27)
A full coverage concealer is perfect for particularly dark under eye bags and can instantly create the illusion of a full night sleep, even if you only got a few hours. Another concealer with a great shade range and maximum coverage, the It Cosmetics Bye Bye Under Eye Anti-Aging Waterproof Concealer is a long lasting and hard working product. It will brighten and emphasize your best features even on a beach day when you might be getting your skin wet. This concealer was even formulated with plastic surgeons to get the coverage of your dreams without a single procedure. At $27, it's a steal!
SheFinds receives commissions for purchases made through the links in this post.