Adding a face oil to your nighttime can be a great way to give your skin a boost of moisture and anti-aging ingredients. If you feel like your skincare routine is lacking, picking the right oil could be exactly what you need. With that in mind, keep reading for 4 night oils you should be using to keep your skin hydrated, supple, and wrinkle-free.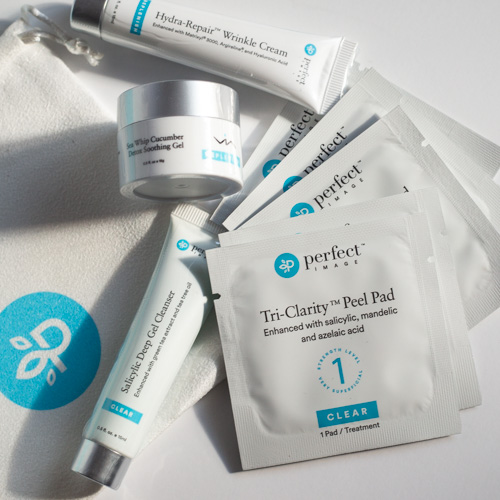 This skincare regimen helps with acne, discoloration, and wrinkles
Key Benefits
This top-rated oil is great for targeting signs of aging like fine lines, wrinkles, and uneven skin texture. It also contains sclerocarya birrea seed oil, which gives your skin a boost of antioxidants and keeps your face looking healthy and moisturized.
Promising Review
"I absolutely LOVE this stuff. I swear it's filled in my 'eleven' wrinkles in between my eyebrows. I had someone at work ask me if I got Botox it was that noticeable. My skin feels better and just overall looks better… I'll be using this the rest of my life." -Sephora Reviewer
Key Benefits
This face oil is a great option for anyone looking to maintain a youthful appearance. It contains buriti oil, alpine rose stem cell, and a blend of moisturizing oils. All in all, these ingredients provide your skin with vitamins and important antioxidants that can help protect it from signs of aging.
Promising Review
"This oil is perfectly named because it truly is the BEST! I have tried several face oils in the past, but many of them ended up being too heavy leading to an overly shiny, oily face and clogged pores. Unlike the others, this oil is MAGIC! It is light and hydrating, adding the perfect glow to my skin. Not to mention, it smells absolutely wonderful! GoodJanes Best Face Oil has become a staple in my beauty routine, I am so happy to have found it." -Good Janes Reviewer
Key Benefits
This night treatment from Kiehl's is a great addition to any anti-aging skincare routine. Made with squalane, lavender essential oil, and evening primrose oil, this night oil hydrates, soothes, and firms up your skin.
Promising Review
"I had a few free samples and loved this so much I bought the full size. I was shocked to see after using it just once it noticeably plumped and hydrated my skin. It even fills in some of my shallower fine lines. (No product is going to do what Botox does though so don't expect total line erasing results) I use this as a last step in my night routine before moisturizer. I've now been using over a month and my skin is significantly softer and smoother. The smell isn't my favorite but I think that's a personal preference. The product works so well that I don't care how it smells. Although I have an extensive skincare routine I think this is also a great product for someone who wants a minimal routine and wants to get the most out of it." -Sephora Reviewer
Key Benefits
This lightweight face oil is the perfect addition to your nighttime skincare routine (though plenty of reviewers also love wearing it in the morning as a base for their makeup). This oil combines maqui, prickly pear, and açai to protect your skin against free radicals and improve its overall appearance. It also supports collagen production and improves discoloration, making it a great go-to night oil for your skin.
Promising Review
"This face oil is hands down, best I have ever used. I am able to just wear blush, bronzer, and concealer without any foundation because of this AMAZING product. Great for women over 40 or anyone needing extra hydration. You will not be disappointed!!" -Sephora Reviewer
SheFinds receives commissions for purchases made through the links in this post.