When it comes to anti-aging, you might be focusing all of your efforts on skincare. To be fair, a good skincare routine is the foundation of a more youthful appearance. However, it can take a long time to see those results. Makeup, on the other hand, can have an instant impact.
With that in mind, if you are feeling impatient and want to achieve a more youthful look ASAP, keep reading for 4 makeup hacks experts swear by for younger-looking skin.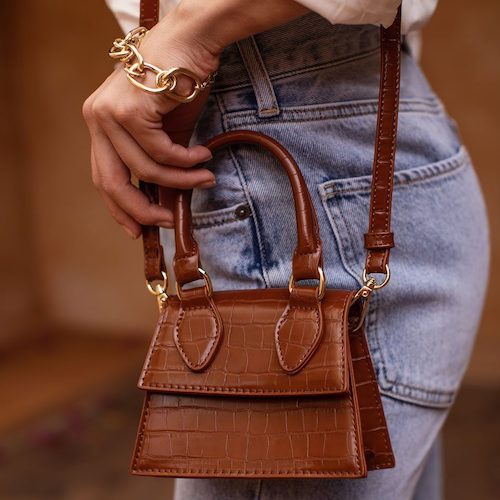 10 Designer Fashion Dupes That Look Like The Real Deal
Shutterstock
Stick to light-weight foundations
You may be tempted to find a heavy, full coverage foundation option — especially if you want to cover up some of the most common signs of aging (dark spots, wrinkles, etc.). Unfortunately, a heavy matte foundation might end up emphasizing them even more.
"The best products for keeping the face young are creams and liquids," celebrity makeup artist Shannon Pezzetta tells Who What Wear. "I like to stay away from heavy matte makeup [on my clients]."
Shutterstock
Try the "fox eye" concealer look
If you've been drawing a concealer triangle under your eye to hide your dark circles, it's time for a change. Although there's nothing necessarily wrong with that application technique, it won't get you very far in your quest to look younger. Instead, try the "fox eye" concealer technique for a more lifted appearance.
Apply the concealer only to the inner and outer corners of your eye. At the outer corner, sweep it up to give it a lifting illusion. You can either stop there or continue to apply the concealer to the sides of your nose, around the corner of your nose, and under the lower lip line.
Shutterstock
Don't neglect your lips
Your lips may not be the first feature you think of when it comes to anti-aging, but they should be high on the list. Over time, your lips can lose their plumpness and lines around your mouth can form. With that in mind, it's important to start an anti-aging lip care routine beyond a simple lip balm.
For your lips, look out for lip treatments that contain powerful anti-aging ingredients like retinol, ceramides, and hyaluronic acid. Additionally, be sure to include the area around your mouth in your daily skincare routine. In other words, don't exclusively apply your retinol serum to your forehead — make sure to add a dab to your smile lines.
By upping your lip care routine, you can feel more confident experimenting with bolder (and more youthful) lipsticks and glosses, knowing that you are not drawing attention to any problem areas.
Shutterstock/Splash
Be careful with your blush
If you usually put your blush on the apples of your cheeks, you might be drawing your face down instead of up. Makeup artist Sandy Linter, who works with Elizabeth Hurley, recommends a different approach for a more youthful appearance.
She tells Harper's Bazaar that blush should be applied to the highest point of your cheekbone and swept up in a circular motion. This technique has a lifting effect that makes you look more youthful.