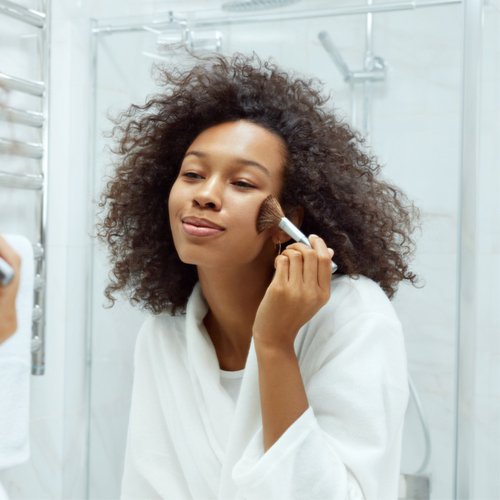 How you apply your makeup can drastically alter your appearance, and as you grow older it's beneficial to know how to wield your tools with a skilled hand in order to enhance your natural beauty and play to your strengths. Foundation is used to even out your complexion and mask imperfections, but it can also be used to give your face a lift, giving you a flawless finish that only a procedure could normally achieve. We asked a makeup expert to give her best foundation tips for a flawless, timeless complexion, and this is what she had to say.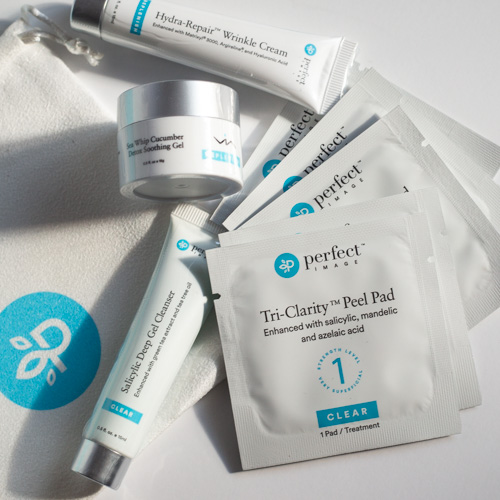 This skincare regimen helps with acne, discoloration, and wrinkles
Shutterstock
Prep and Prime
Starting off with a clean base for foundation is important so that your product goes on evenly without appearing textured on dry patches. Sephora Beauty Director Myiesha Sewell explains the steps you must follow before even getting to the application, "You want to make sure your skin is exfoliated well because dead skin cells don't reflect light. Using a daily peel pad like the Dr. Dennis Gross Skincare Alpha Beta Universal Daily Peel; $17-150 is one of the easiest ways to fight dullness and exfoliate your skin."
After you've exfoliated, it's important to find a powerful moisturizer to nourish the skin before you cover it with makeup. This will also enhance your youthful glow as well hydrated skin is one of the keys for defying age! Following moisturizer, a good color corrector is vital to lift and enhance your features. "If you have fairer skin that's looking a bit dull or sallow you may want to try the Make Up For Ever Fresh Brightener (pink) or Yellow Neutralizer (lilac) and if you have brown skin and are experiencing some ashiness or discoloration the Grayness reducer (orange) shade works wonders. Remember to only apply correctors on the areas of concern. If you don't need color correction on your entire face then don't apply it there," says Sewell.
Shutterstock
Finish Matters
In order to achieve a primed and flawless complexion, the finish of your foundation is important. "Of course, the foundation that you use has a great effect on the overall look of your makeup so choose wisely. As we get older we lose hydration and overall reflectiveness of the skin so it's a good idea to look for a natural or radiant finish foundation to mimic what you may be lacking," says Sewell. "Sephora Collection Best Skin Ever; $20 is a new favorite of mine because it's extremely easy to manipulate because it's a medium to buildable coverage, natural finish foundation that can really do whatever you want it to. I'm also loving the Westman Atelier Vital Foundation Stick; $68 which contains moisturizing vegetable-derived squalane and doubles up as a concealer or foundation."
Shutterstock
Keep It Creamy
Adding extra moisture to your skin wherever possible will help to create a glowing finish that lifts your face naturally, so a creamier product will be best suited for the job. "If you want to keep the glow going, use liquid or cream-based complexion products. Charlotte Tilbury Hollywood Flawless Filter; $44 is something that I simply cannot do makeup without. It is the ultimate complexion enhancer that you can wear alone, underneath your foundation, mixed into your foundation, or even as a highlighter," recommends Sewell.
Shutterstock
Set It
Once you've applied a flawless face of foundation, the last step is to lock everything in with a good setting spray. "Even if you're a powder hater you have to set your makeup. In the same way that not using a topcoat when you're painting your nails means your manicure won't last, not setting your makeup means it won't stay put. Hourglass Veil Translucent Setting Spray; $46 is a finely milled powder with a natural finish that works on all skin tones. I love that the component only dispenses the perfect amount so it's impossible to over-powder," says Sewell. "Once you're done with your makeup, top it all off with a setting spray like the Charlotte Tilbury Airbrush Flawless Setting Spray; $20-35. This step melds everything together and makes it last all day."
SheFinds receives commissions for purchases made through the links in this post.