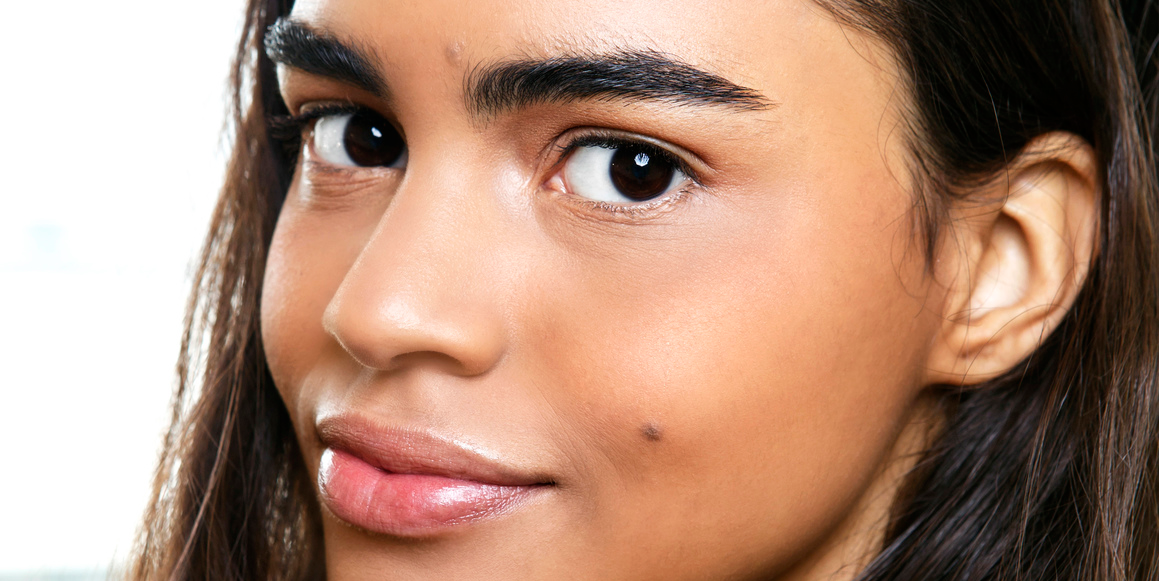 When it comes to anti-aging skincare ingredients, everyone knows that retinol reigns supreme. The only issue? It can irritate the hell outta your skin. We're talking flakes, dryness, redness—the whole deal. That's why it can feel like a straight-up chore trying to add it to your routine, especially if you're someone who already has sensitive skin. Enter: bakuchiol, the incredibly popular retinol alternative that's known for being one of the only natural skincare ingredients that can rival the anti-aging effects of retinol—without as many side effects. Sounds almost too good to be true, right? But for once, it's honestly not.
Bakuchiol may sound like some weird chemical, but it actually comes from a purple-flowered plant called babchi (which explains why so many of the best-selling bakuchiol products are purple). But because there's so much confusion and skepticism around bakuchiol, I went ahead and chatted with a few dermatologists to help demystify this sensitive skin MVP. Check out the full breakdown below, then keep scrolling for the very best bakuchiol products to try out asap.
Meet the experts
What does bakuchiol do for your skin?
"Bakuchiol is what is considered as a 'phytoretinol,' or a plant-based ingredient with similar functions and benefits of retinol, but one that's still gentle enough for very sensitive skin," says dermatologist Anar Mikailov. Just like with classic retinol or retinoids, bakuchiol can trigger collagen production and increase your skin's cellular turnover, which can lead to smoother lines and wrinkles, firmer skin laxity, softer skin texture, and more even skin tone.
What differentiates bakuchiol (which is also an antioxidant, BTW) from retinol is that it also has built-in soothing properties. "It's a great ingredient for people with skin that is prone to sensitivity and irritation," says dermatologist Dr. Yadav. Though bakuchiol is considered non-irritating on most skin types and can be used nightly with no ramp-up period, you should still take it slow if you're prone to dryness or irritation (hi, anyone with rosacea, hyper-sensitive skin, psoriasis, or eczema).
Is bakuchiol as good as retinol?
Surprisingly, yes—bakuchiol is nearly as effective as classic retinol. In one clinical study published in the British Journal of Dermatology in 2018, researchers found that bakuchiol was just as effective as retinol and significantly less irritating—a major plus for anyone who has sensitive skin. "Bakuchiol has been shown to increase collagen production and cell turnover to a similar degree as retinol, which is a pretty big deal," says dermatologist Mona Gohara, MD.
But that doesn't mean you have to pick sides if you can tolerate both—retinol and bakuchiol play nicely together and can work as teammates. "Bakuchiol isn't considered an 'active' in the same was as retinol is, so I tell my patients there's no harm in layering it with retinol," says Dr. Gohara. "I mean, I layer on antioxidants in my skincare routine, so why wouldn't I layer on collagen producers, too?" Dr. Gohara's tip: Apply your cream or serum retinol first, then layer your bakuchiol on top.
Is bakuchiol safe for pregnancy?
As for using bakuchiol as a retinol alternative when you're pregnant, you'll want to bring that up with your doctor or OB/GYN first. "I always recommend checking with your doctor if you're pregnant or nursing before you put anything on your skin," says Dr. Gohara. "While, yes, bakuchiol is a plant, there isn't sufficient testing on it just yet to make a blanket safety ruling."
Okay, eyes glazing over and just want some quick picks for our favorite bakuchiol products? Take a look at this abbreviate list, then keep reading for the full breakdown on the best bakuchiol products (and how to pick the right formula for your skin type), below.
The best bakuchiol and retinol-alternative products of 2022
What to look for in a bakuchiol skincare product:
Its efficacy in comparison to retinol
As dermatologist Shari Marchbein, MD, previously told Cosmo, "Retinol is the most effective product for keeping your skin clear, smooth, and glowing—after sunscreen, of course." The next best thing if you can't handle retinol? A formula that can offer similar benefits as retinol, like one filled with bakuchiol. Make sure whatever product you're getting is clearly a bakuchiol-first product (see: says it on the label or box)—anything that has bakuchiol as one of its last ingredients isn't going to be as potent as a regular retinoid.
The other ingredients in the formula

If your skin is on the "tougher" side and can handle a few active ingredients at once, Dr. Yadav recommends looking for a bakuchiol product formulated with AHAs (alpha hydroxy acids), like lactic, mandelic, and glycolic acids, to help smooth uneven skin texture faster and more effectively.
Or, if you're more focused on trying to make your pores look smaller and improve uneven skin tone, Dr. Yadav suggests looking for a bakuchiol product with niacinamide, which is a potent antioxidant that helps brighten skin and even out oil production over time. And if all this sounds too difficult, don't worry—bakuchiol alone "will still treat all of these issues without the potential irritation the other ingredients can cause," says Dr. Yadav.
In other words, bakuchiol is kind of a big deal, and since it's a clear favorite retinol alternative, we've rounded up 13 products for you to try for yourself.
1
Best Bakuchiol and Retinol Cream for Dry, Sensitive Skin
Skintensive Bakuchiol & Retinol Dual Renewal PM Cream
Dr. Mikailov recommends this moisturizer for boosting collagen production, reducing fine lines and wrinkles, and increasing cell turnover, which in turn, helps brighten the skin. If bakuchiol is the hero ingredient, consider sea buckthorn berry its sidekick that helps reduce inflammation to calm the skin, too.
2
Best Retinol Alternative for the Price
The INKEY List Bakuchiol Retinol Alternative Moisturizer
If money is a factor (let's be real, it's always a factor) this bakuchiol-based anti-aging moisturizer is one of Dr. Yadav's favorite affordable options. With additional ingredients like squalane and sacha inchi oil, it's got all the basics covered to hydrate and moisturize as well as address all those signs of aging for just under 10 bucks.
3
Best Bakuchiol and AHA Cream
OLEHENRIKSEN Goodnight Glow Retin-ALT Sleeping Crème
This face cream, another favorite of Dr. Yadav, combines multiple retinol alternatives, like bakuchiol and AHAs (like glycolic and lactic acids), for more potent cellular turnover. Nothing works overnight, but this night cream gets to work overnight and is basically the next best thing.
4
Best Retinol Plus Bakuchiol Treatment
Paula's Choice CLINICAL 0.3 Retinol 2 Bakuchiol Treatment
For those who are open to combining retinol and bakuchiol, Dr. Yadav recommends this effective treatment that contains both. This formula contains a one-two punch of retinol and bakuchiol, plus peptides and vitamin C to soothe and improve skin that needs a little pick-me-up.
5
Best Retinol Serum for Beginners
Versed Press Restart Gentle Retinol Serum
Designed for retinol newbies, this serum has a soft, creamy texture and a mixture of retinol with retinol alternatives, like bakuchiol and arophira. To keep the skin calm and moisturized while it gets to work smoothing texture and evening tone, it uses a bunch of antioxidants and anti-inflammatory ingredients, like rosehip seed oil, aloe, and vitamin E.
6
Best Smoothing Serum
Herbivore Bakuchiol Retinol Alternative Smoothing Serum
What do you get when you pair a gentle retinol alternative with another gentle chemical exfoliant? This mild (but effective!) smoothing serum. Bakuchiol and polyhydroxy acid are the two standout ingredients in this formula for the way they exfoliate and resurface skin sans irritation.
7
Best Bakuchiol Packaging
Biossance Squalane + Phyto-Retinol Serum
Usually, I don't geek out over packaging (okay, fine, I always do), but this bottle has a recyclable airless pump that lets you squeeze out every last bit of the bakuchiol, niacinamide, squalane, and sodium hyaluronate in this hydrating serum.
8
Best Firming Oil
Allies of Skin CE15 Bakuchiol Firming Oil
Face oil kinda feels like an unnecessary extra step, but this will really give your skincare routine the step up it needs. It's jam-packed with skin-loving oils (nine if you're counting), vitamin C, CoQ10, and of course, bakuchiol to soften and smooth texture and tone.
9
Best Bakuchiol Eye Cream
Peach & Lily Pure Peach Retinoic Eye Cream
When you're working with the delicate skin in the eye area, you absolutely want a gentle formula, and that's why this anti-aging eye cream is such a great option. Besides bakuchiol, this formula is packed with ceramides, niacinamide, rosehip oil, and ingredients rich in beta-carotene (an antioxidant that's a precursor to vitamin A) to improve fine lines and crepey skin around the eyes.
10
Best Fragrance-Free Bakuchiol Moisturizer
Keys Soulcare Skin Transformation Cream Fragrance Free
Skin that's much too sensitive for retinol probs can't handle fragrance, either. This fragrance-free moisturizer is as gentle and nourishing as it gets. Full of humectants (like glycerin and sodium hyaluronate) to pull hydration into the skin and ceramides to restore the skin barrier, this moisturizer will have you saying, "Irritation? Never heard of it!"
11
Best Peptide Serum
Medik8 Bakuchiol Peptides Serum
We now know how bomb bakuchiol is at stimulating collagen production, but you know what else is great at that? Peptides. These signal the cells to stimulate the production of collagen and elastin and are ah-mazing anti-aging ingredients. This serum pairs peptide precursors with bakuchiol to really tackle uneven skin texture and tone.
12
Best Firming Night Cream
I DEW CARE Power Plug Firming Night Cream
If you're not using a night cream, you gotta get on that, and if you're not using this night cream, WYD?! With heavy-hitters like bakuchiol, panthenol, niacinamide, and vegetable collagen, this night cream is a dream for your skin and leaves your face feeling super moisturized, smooth, and refined.
13
Best Retinol Alternative for Dry Skin
Good Molecules Bakuchiol Oil Blend for Dry Skin
There are only three ingredients in this oil blend, but that doesn't mean it's lacking. Together the chia seed oil, rosehip seed oil, and bakuchiol protect from free-radical damage, brighten, moisturize, soothe, and encourage cell turnover and collagen production. Pretty impressive trio, right?
This content is created and maintained by a third party, and imported onto this page to help users provide their email addresses. You may be able to find more information about this and similar content at piano.io