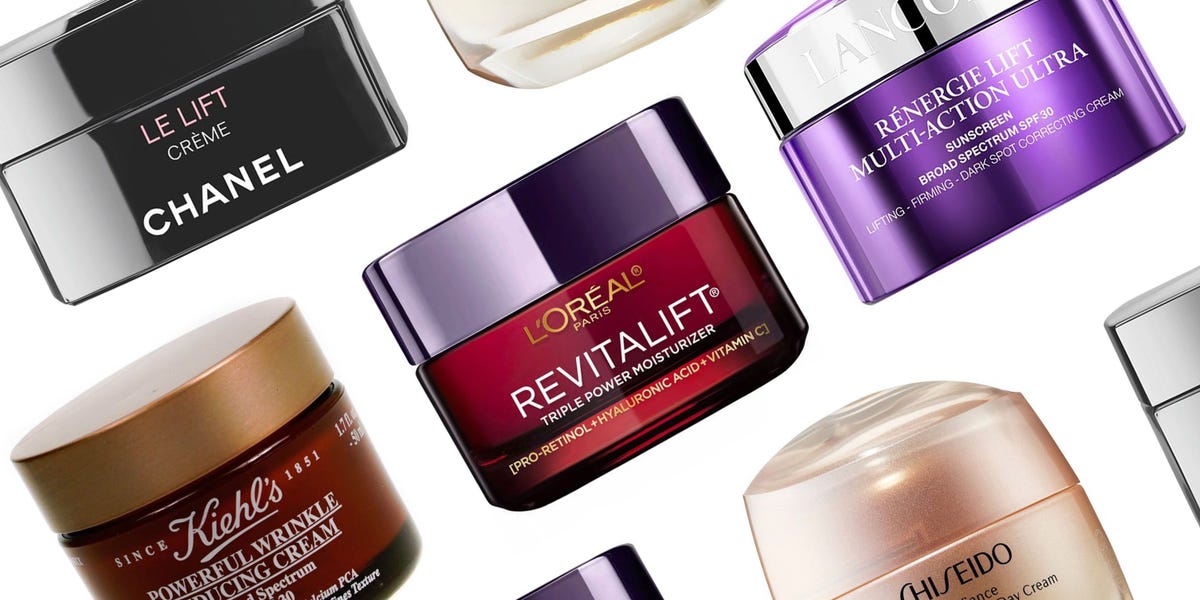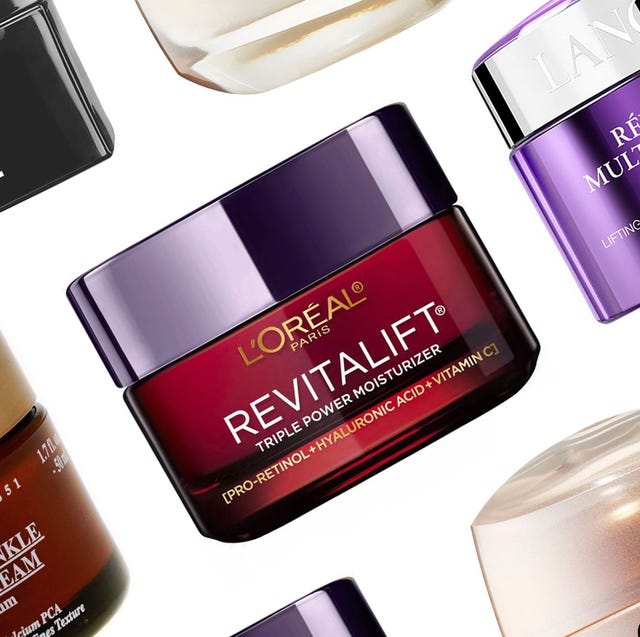 .
Wrinkles and fine lines happen to all of us—even to those with the most careful wellness and skin care regimens. The good news: Skincare technology has made it possible to smooth their appearance from the comfort of your own home. Thanks to ingredients like retinoids, hyaluronic acid, and collagen, anti-wrinkle creams can give skin a more youthful look and feel over time.
More so than a lot of other products out there, wrinkle treatments can over-promise and under-deliver, so it's important to keep in mind ingredients and what's realistic for your routine. For example, retinoids tend to irritate skin, but are also very effective at anti-aging. If you're committed to using a product with retinol or retinoids, be prepared with plenty of sunscreen and the knowledge that your skin might peel from time to time. (Also, women who are pregnant or breastfeeding should not use retinol, as it can cross the placental barrier and potentially lead to birth defects.)
Remember, SPF and hydration are the keys to preventing signs of aging—but when it comes to turning back the clock on existing wrinkles, these products have what it takes to deliver results.
Advertisement – Continue Reading Below
1
Rénergie Lift Multi-Action Ultra Face Cream With SPF 30
Lancôme
lancome-usa.com
$109.00
An SPF 30 sunscreen and brightening moisturizer in one, this is the single anti-aging cream you need to both treat the wrinkles you have while preventing damage in the future. It's even approved by the Skin Cancer Foundation.
2
Drugstore Pick
Regenerist Retinol Moisturizer
Olay Regenerist Retinol24 Night Moisturizer is ideal for layering power-packed retinol into your routine without adding an extra step.
3
Le Lift Creme Firming Anti-Wrinkle Cream
Chanel
nordstrom.com
$165.00
It's pricey, but this super-potent, luxurious cream has a devoted following for a reason.
4
Protini™ Polypeptide Moisturizer
Drunk Elephant
sephora.com
$68.00
Everything you want in an anti-aging moisturizer—a rich formula that simultaneously repairs sun damage, hydrates, and plumps—without any of the ingredients you're trying to avoid.
5
Repairwear Laser Focus Night Line Smoothing Cream for Combination Oily to Oily Skin
CLINIQUE
sephora.com
$54.50
Dry skin isn't alone in getting wrinkles. This collagen-infused cream is specifically formulated for oily and combination skin types.
6
Benefiance Wrinkle Smoothing Day Cream SPF 23
Shiseido
sephora.com
$70.00
It has SPF 23 to protect skin, and is formulated with the brand's "KOMBU-bounce complex," which both fills in and treats wrinkles.
7
Powerful Wrinkle Reducing Cream SPF 30
Kiehl's
kiehls.com
$60.00
This cream boasts SPF 30 and copper PCA, which, in addition to treating wrinkles, can help with hyperpigmentation.
8
Drugstore Pick
Triple Power Anti-Aging Moisturizer
L'Oréal Paris
lorealparisusa.com
$24.99
The Revitalift Triple Power Daily Face Moisturizer is an MVP of drugstore skincare. The plush cream is formulated with powerhouses retinol, Vitamin C, and Hyaluronic Acid to deliver serious anti-aging results in just a week.
9
Advanced Time Zone Night Age Reversing Line/Wrinkle Crème
Estée Lauder
sephora.com
$82.00
Fun fact: Our skin naturally produces hyaluronic acid, but we produce less and less as we get older. This cream increases production of hyaluronic acid while you sleep, so you have plumper, less dehydrated skin by morning.
10
Drugstore Pick
Neutrogena Rapid Wrinkle Repair Hyaluronic Acid & Retinol Face Cream
Neutrogena
target.com
$24.99
Fragrance-free and formulated with retinol and hyaluronic acid, plus you can't beat the price.
This content is created and maintained by a third party, and imported onto this page to help users provide their email addresses. You may be able to find more information about this and similar content at piano.io
Advertisement – Continue Reading Below