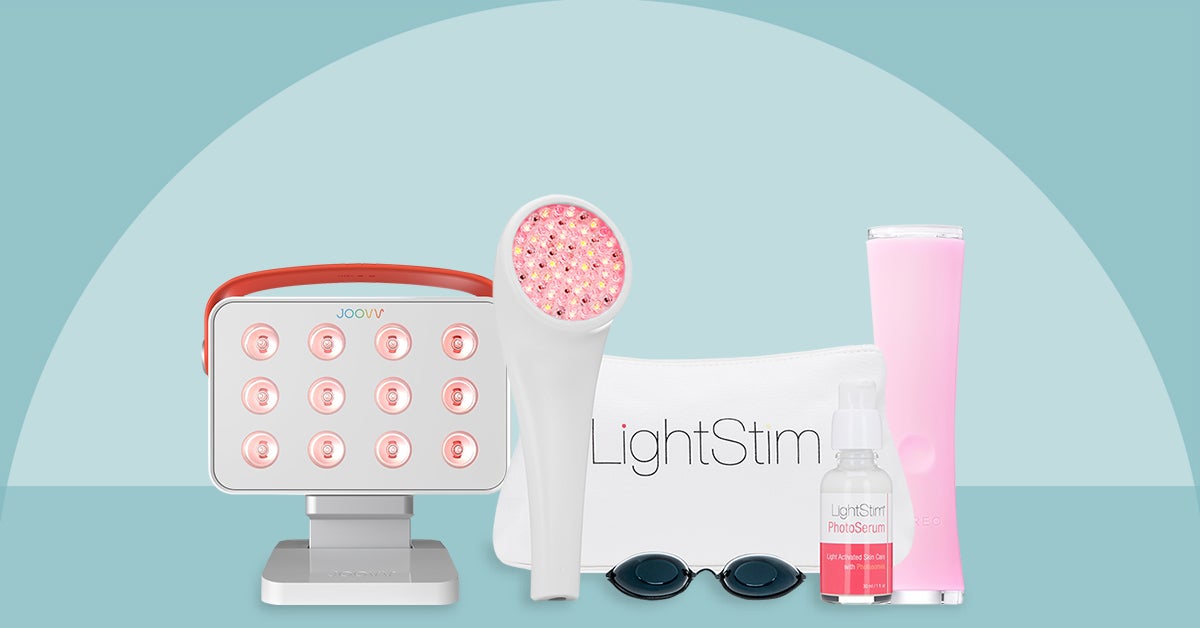 At-home LED light therapy devices look futuristic — which you might know if you've seen someone on Instagram wearing a mask that makes them look a little like a robot.
Looks aside, these LED masks and tools have many benefits for the skin, like helping to promote skin elasticity and production of collagen, reducing acne and redness, and more.
Read on to learn more about LED light therapy and which devices are actually worth the investment.
LED stands for "light-emitting diode." LED devices for skin either cover the face entirely, like a mask, or are handheld. These devices work by allowing lights of different wavelengths to penetrate the skin.
Research suggests LED light therapy may help improve the look of redness, dark spots, acne, and wrinkles.
In a 2018 study, people saw results from red light therapy in as little as 3 weeks when using the device for 20-minute treatments 3 times per week. A 2017 study also showed potential for LED light to reduce abdominal fat deposits.
Unlike UVA or UVB light from the sun, LED lights don't burn the skin. But it's still a good idea to wear protective eyewear when using LED devices.
Many LED light therapy devices contain various color lights, though some only use red or blue light.
Below, we're breaking down the difference between blue light and red light, so you can decide what's right for you.
Red light
If you're concerned about wrinkles and general aging of the skin, red light devices are your best bet, because "they target fibroblasts, which are involved in the production of collagen," says Dr. Sandy Skotnicki, a dermatologist and the author of "Beyond Soap."
She adds that an increase in collagen may reduce visible signs of skin aging, and that recently, it's shown to help restore hair follicles in those experiencing male and female pattern androgenetic alopecia.
Blue light
For those who are hoping to reduce acne or make pores appear smaller, Skotnicki recommends blue light therapy. This is because the light may help shrink your oil glands, which in turn can reduce the oil production in your skin.
Research also suggests that it may kill P. acnes, the bacteria responsible for some types of acne.
There are tons of LED light therapy options available, and it can be daunting to decide which one is best for you.
We narrowed it down to a list of 10 options, selecting tools that are FDA-cleared and have great reviews from reputable websites at a range of prices.
Pricing guide
Like most beauty products, LED light therapy tools come in a range of price points, from under $100 to over $500.
We kept the picks on this list on the lower-to-mid end of the spectrum to make them as accessible as possible. That being said, there are some splurge options.
$ = under $150
$$ = $150–$250
$$$ = over $250
LED light therapy tools use infrared light wavelengths to address certain skin issues, like acne, wrinkles, fine lines, and uneven texture.
The best LED light therapy devices have great reviews from real users, and they're FDA-cleared from reputable sellers.
---
Grace Gallagher is a writer living in Portland, Oregon. Her words have appeared in Brit + Co, Greatist, The Sunday Edit, and BARE Magazine. All of her work can be found atwww.gracelgallagher.com.